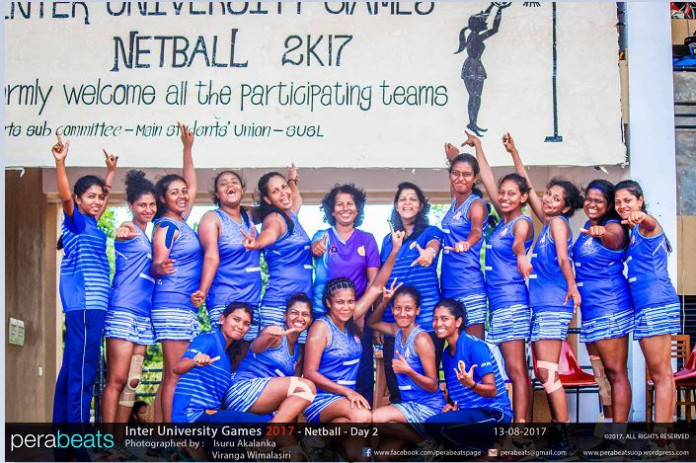 University of Sri Jayawardenapura (UoSJ)crushed University of Jaffna 79-35 in the final to clinch the 2017 Inter University Netball Championship held at the University of Sabaragamuwa.
This is the 4th successive time the University of Sri Jayawardenapura has won the championship after breaking the 10-year streak of University of Colombo back in 2014. UOSJ's fortunes changed for the better after former Sri Lanka player and coach Hyacinth Wijesinghe took over the reins as Head Coach.
Holy Family Convent, Kurunegala once again cemented their place as the Queens of Sri Lanka..
The matches were confined to 20 minute halves up until the semi-finals while the final and the 3rd place matches were played as 30 minute halves.
UOSJ defeated Visual and Performing Arts University 65-08 in the first round to book a quarter final place. In the quarter final, they again comfortably defeated Wayamba University 55-07.
The semi-final was a much closer encounter but still University of Colombo was not good enough for UOSJ who defeated them 43-21. In the other semi-final, University of Jaffna defeated University of Kelaniya 30-23.
University of Moratuwa and University of Sabaragamuwa won the men's and women's Inter..
University of Colombo finished in 3rd place with a thrilling 41-38 win over University of Kelaniya. In a surprising twist of fates, last year's runners-up University of Peradeniya were unable to secure a place while University of Kelaniya booked a semi-final place for the first time.
Speaking on the success Head Coach of UOSJ Hyacinth Wijesinghe had this to say;
"Jaffna had a very good team this year. There was a lot of team work. What worked for J'pura was we focused on our defence, more than most of the other universities. We worked out our strengths and weaknesses as well as our opponents'. I am pleased with not only the win or the score but how well we executed our plans. Largely the credit should go to our captain Sonali."
"I was impressed with Sonali's leadership. Himasha our vice-captain was a keen player who played the game clean. Vijini who plays center had a very good tournament. 4 or 5 players are in their last year but our first-year players Thushara, Janathri and Sanduni played wonderfully which shows there is a good future and we can continue this success."
Team
Sonali Nanayakkara © – Himasha Radalage (vc) – Vijini Wijemuni – Tachini Gayashi – Anjalee Peramunugama – Thilini Wijithasena – Anjalee Biyanwila – Thushara Jayasekara – Maneesha Ranasinghe – Janathri Hiranya – Sanduni Welikala – Ikshoori Rathnaweera