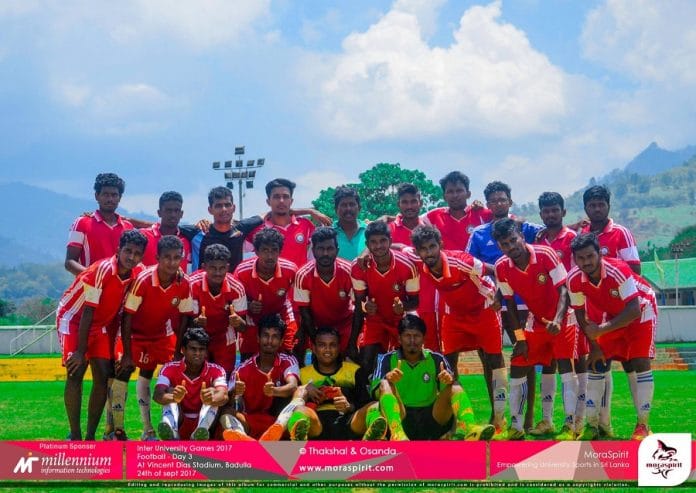 University of Jaffna (UOJ) defeated University of Peradeniya (UOP) to win the 2017 Inter University Football championship at the Vincent Dias Stadium, Badulla.
Jaffna University retained their Sri Lanka University Games football title when they defeated University…
UoJ won the final 1-0 to become the champions for the 13th time in 19 tournaments. They won the title in 1979, 1980, 1992, 1995, 1998, 2001, 2005, 2009, 2011, 2013, 2014, 2016 & 2017. UoJ were runners-up in 2010 & 2015 while in 1977, 1982, 2004 & 2012 they were placed 3rd.
In the semi-final, the two heavyweights UoJ and University of Moratuwa (UoM) clashed and at the final whistle neither team was able to score. In the penalty shootout UoJ won 4-1. In the other semi-final UoP won 4-3 on penalties against University of Sri Jayawardenapura (UoSJ) after it ended 1-1 at full time.
Avenging their group stage loss on penalties UoM won the 3rd place defeating UoSJ 1-0.
University of Jaffna, University of Peradeniya and University of Ruhuna were drawn in group A. Group B consisted of University of Sri Jayawardanepura, University of Moratuwa and Uva Wellassa University. South Eastern University, Eastern University and University of Rajarata were in group C and group D, the group of death, included University of Colombo, Sabaragamuwa University, Wayamba University and University of Kelaniya.
UoJ and UoP booked quarter final places from group A. UoM & UoSJ qualified for the quarter finals from group B while South Eastern University and Eastern University qualified from group C.
From group D, Sabaragamuwa University went undefeated and qualified for the quarter-finals. Wayamba University shocked University of Colombo (UoC) 2-1 but since University of Kelaniya won against Wayamba, UoC became the 2nd team to book a quarter-final place from group D.
In the quarter finals UoSJ defeated UoC on penalties after it ended 1-1 at full time. The quarter final match between South Eastern and Jaffna was a lively affair with scores reading 2-2 at the end of the 90 minutes. However, in the penalty shootout Jaffna won 4-2.
In the 3rd quarter final Sabaragamuwa University scored in the first half but UoM equalized deep into injury time to take the match into a penalty shootout where the lads from Moratuwa were able to secure the win. In the 4th quarter-final UoP defeated Eastern University 3-2 in an entertaining match.