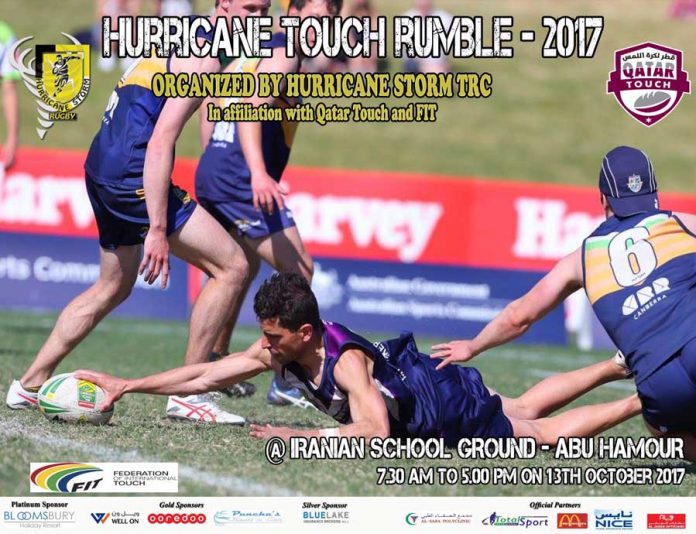 "Hurricane Touch Rumble 2017" open men's touch rugby tournament organized by "Hurricane Storm Touch Rugby Club Doha" in collaboration with the "Qatar Touch", will take place on 13th (Friday) October 2017, at the Iranian School Grounds, Doha from 7.30 am onwards.
This is an open men's tournament where  twelve prominent  teams representing companies, clubs and schools compete for the championship title. In contrast to the previous editions, this year tournament includes franchise teams which are represented by a mix of Sri Lankans and foreign nationals who have teamed up in harmony.
According to Hans Thomasz – The President of Hurricane Storm Touch Rugby Club Doha "Touch is booming in Qatar and its popularity is growing rapidly. Full credit to FIT and Qatar Touch for their newly developed cooperation. It's terrific to have them supporting our event". Thomasz continued, " We are expecting to welcome a huge influx of supporters, families and friends to witness an exciting day of competitive touch rugby; anticipated to be the highest of it's caliber".
Since most of the prominent Sri Lankan players competing in the tournament reign from esteemed school OBA's, organizers cordially invite Sri Lankan expatriates living in Qatar to join on 13th (Friday) October to witness the live actions of the most competitive touch rugby tournament held in Doha. For more information please contact Hans Thomasz on 6602 6041 and visit  https://www.facebook.com/www.hurricanestormrugbydohaqatar/
Due to growing popularity of touch rugby amongst the Qatar teams, this year event has attracted major sponsorship from reputable Qatari and international companies such as; Bloomsbury Holiday Resort (Platinum Sponsor), Well OnRestaurant, Ooredoo, Puncha's Rent-a-Car(Gold Sponsors), Blue Lake Insurance Brokers (Silver Sponsors), Al-Safa Polyclinic, Total Sports, McDonald's, Al Jaber Opticians and Nice Drinking Water (Cp-Sponsors)
The Hurricane Storm Touch Rugby club Doha was established in 2012 and has won several titles in major tournaments in the past. The most recent being the champions of the Qatar Beach Rugby Championship held in February 2017.