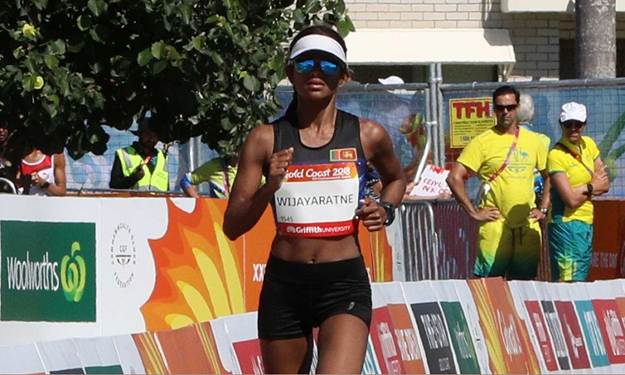 Hiruni Wijerathne, Sri Lankan marathoner domiciled in USA renewed the 15-year-old 10000m record at the Protland Track festival which was held in Oregon, USA.
She was placed 12th in the competition clocking a time of 33:55.06 to better the previous record of 33:57.96 which was held by Sujeewa Nilmini Jayasena by over 2 minutes. The previous record was established in 2003 at Sugathadasa and had been one of the long-standing women's long-distance records.
Hiruni adds the 10000m national record to her long list of national records which include the National Marathon, Half Marathon, 30km, 25km, 15km, 10km,5km records.
The long-distance runner who specializes in the marathon has been making waves in the past couple of years with and has represented Sri Lanka at international competitions. Hiruni won the Eugene marathon in Oregon last year achieving qualification for the 2017 IAAF World Championship despite not being able to finish due to intense leg cramps that warranted her to give up half way.
Hiruni Wijerathna, the US based Sri Lankan marathoner established a new women's marathon national record clocking …
Hiruni bounced back strongly with a national record time of 2:36.35 in the Houston Marathon in Texas at the beginning of this year to achieve qualification for the Commonwealth Games which was held in Gold Coast Australia earlier this year. She managed to finish 11th at the Commonwealth marathon which was during a very humid and difficult weather conditions.
Related – Commonwealth Games: Hiruni finishes 11th in the Marathon