Second day of the 33rd All Island Schools Athletic championship resumed today (12th) at the Diyagama Mahinda Rajapakshe Stadium.
It was an early start due to the time lost yesterday caused by the heavy rains that warranted some events to be postponed to the second day. The sun had decided to shine brightly at the start of the second day much to the relief of the contestants and officials alike as many important finals were lined up in the morning.
100m sprint finals of Under 16,18,20 of both Boys & Girls were the first track events of the day to be worked out and saw some encouraging performances by the young athletes.
In the Under 16 Girls 100m, Sandeepa Henderson of Gateway College sprinted her way to the second gold of the meet . Henderson clocked a brilliant 12.67 to win the race convincingly with E. M Fernando of Good Shepherd Convent Kandy finishing second with a time of 12.95 to take silver. Bronze medal was won by Dilimi Dinusha of Yashodara B.V Colombo clocking a time of 13.05.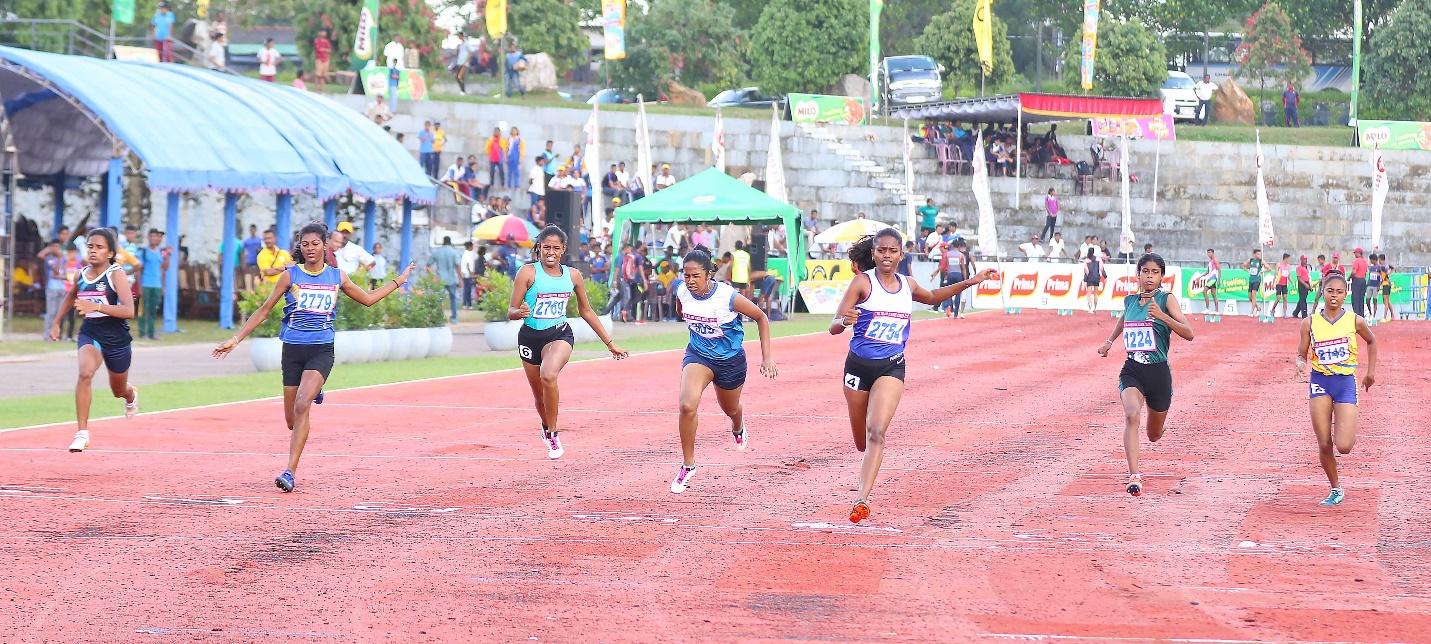 In the under 18 girls final Ewanthi Emeshika managed to edge out favourite Shalinda Jansen of Gatweay College. Emeshika hailing from St. Mary's Convent, Matara clocked 12.37 while Shalinda Jansen of Gatway College was placed second. Devinya Perera of Museaus College was placed third taking the bronze home.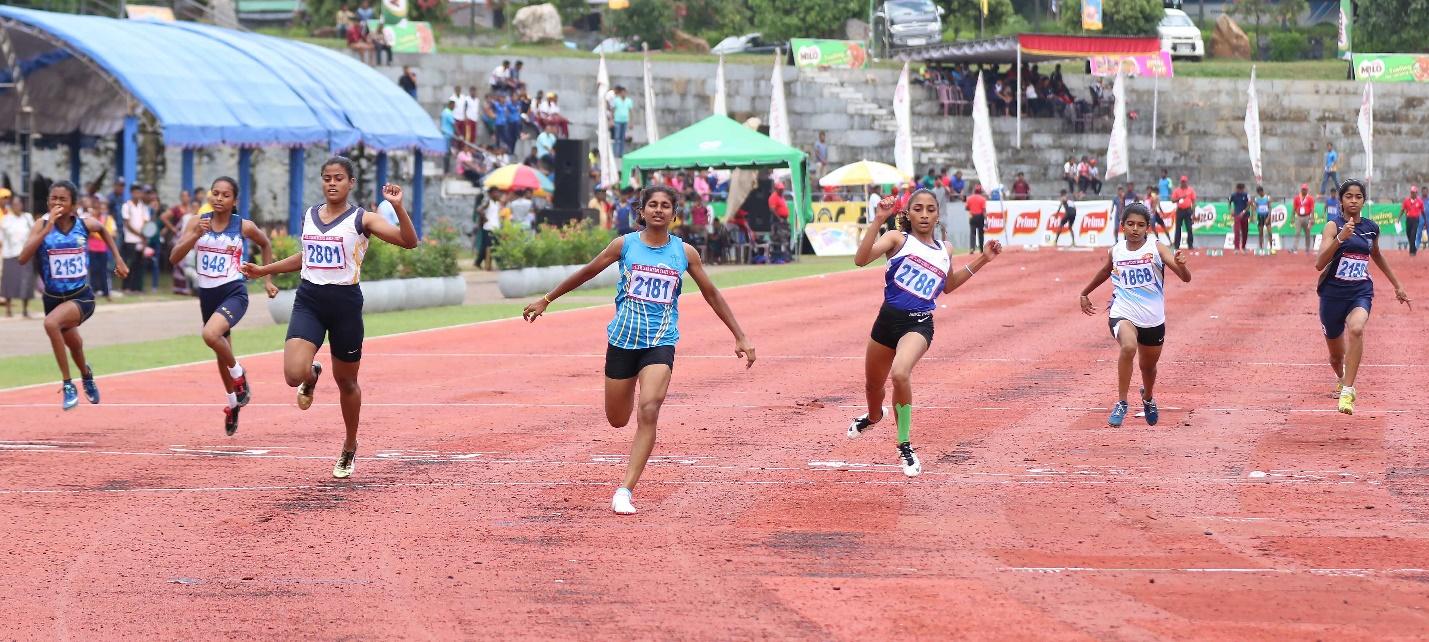 The Boys sprints were very keenly contested with participants from island wide schools making the finals. In the Under 16 it was Milinda Perera of St. Mary's College Chilaw who was placed first with a time of 11.31. T D Kulasinghe of S. Thomas' College was placed second ahead of Randika Liyanage of Richmond College Galle who was placed third.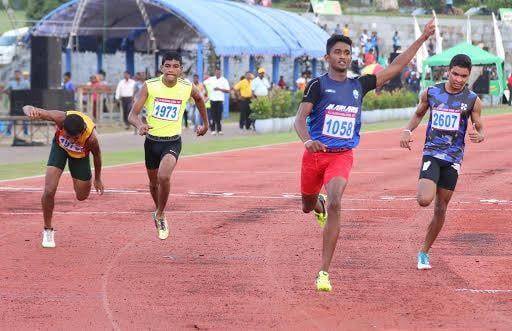 The U18 Boys 100m dash was a fiercely contested fast paced race with the likes of Yohan Dhanushka and World Junior Athletic Championship representative Shalika Santhush qualifiying for the finals. However it was  C M Yodasinghe from St Mary's College, Kegalle who turned the tables to take the top spot. Yodasinghe clocked a time of 10.90 to take gold while D.S Rathnasiri of Embilipitiya Moraketiya MV, managed to get ahead of the two fancied Benedictines. Yohan Dhanushka clocked 11.01 to win the bronze medal while Santhush had to be satisfied with a 4th place finish with a time of 11.10.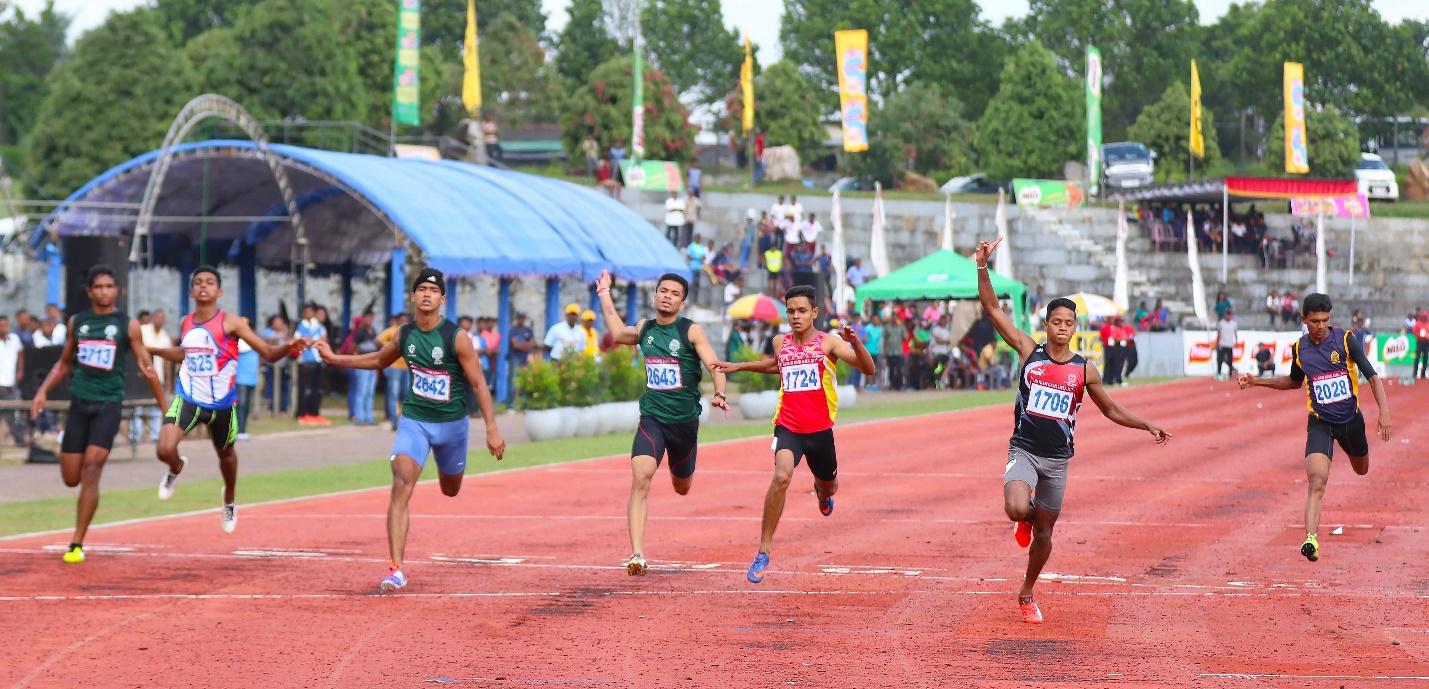 The Under 20 event Chnauka Sandeepa of Maris Stella College Negombo  won g8old with a time of 10.89. S.M Safan of Anubukkagama MMV was placed second while Nalandian  K.S Perera won the bronze.
Under 16 Girls Discus throw was the first field event of the day to be completed. Heshanni Maheshika of St. Sebastian's Girls School, Kandana was placed first with a throw that was measured at 34.58m. S Gunasekara of Ladies college, Colombo was placed second while K.H Ratnayake of Embilipitiya Rathnayake MV was placed third.
R.T Bulugahapitiya of Dharmaraja College won the maiden medal for the Rajans at the championship winning the Boy's 1500m Under 20 event with a time of 4:00.23. Poorna Sandamin of Rahula College, Matara was placed second while Gayan Tharuka of Lyceum Wattala was placed third.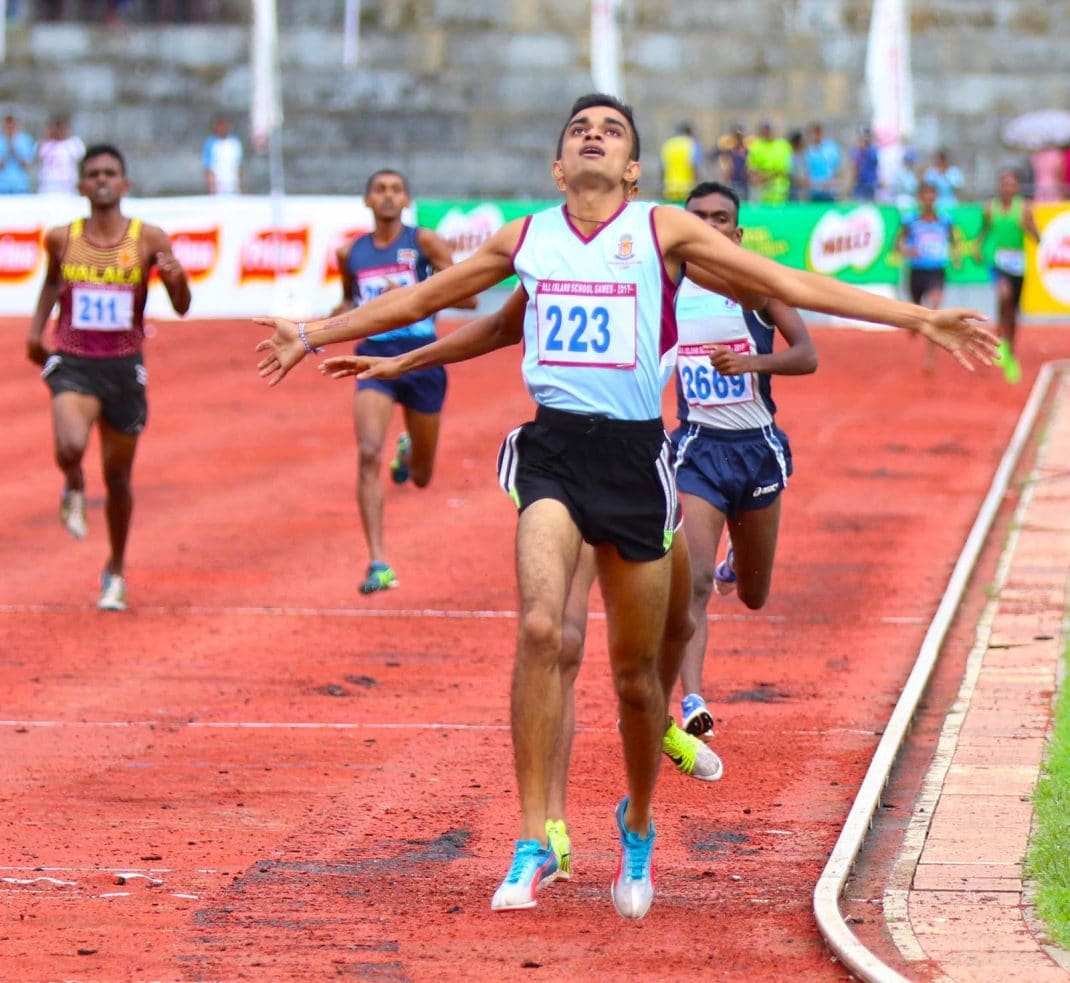 Both Boy's and Girl's under 16, 18 & 20 400m events were held in the second session of the day.  In the Under 16 Girls category Kavindi Sajana of Presidents College, Rajagiriya was placed first with a time of 58.67 while Nethmi Nimsara of Gurugodalla KV and SN Maduwanthi of John Kotalawala College Kurunegala was placed second and third respectively.
The Under 18 Girls event of the same race was eagerly looked forward to with youth international Sachini Divyanjalee taking part in the event and she did not disappoint as she was first to the finish line clocking a time of 56.96. C S Bandara of St. Joseph's B.V, Kegalle was placed second with a time of 58.13 while K.Thathsarani of Ambagamuwa M.V in third place clocking 58.32.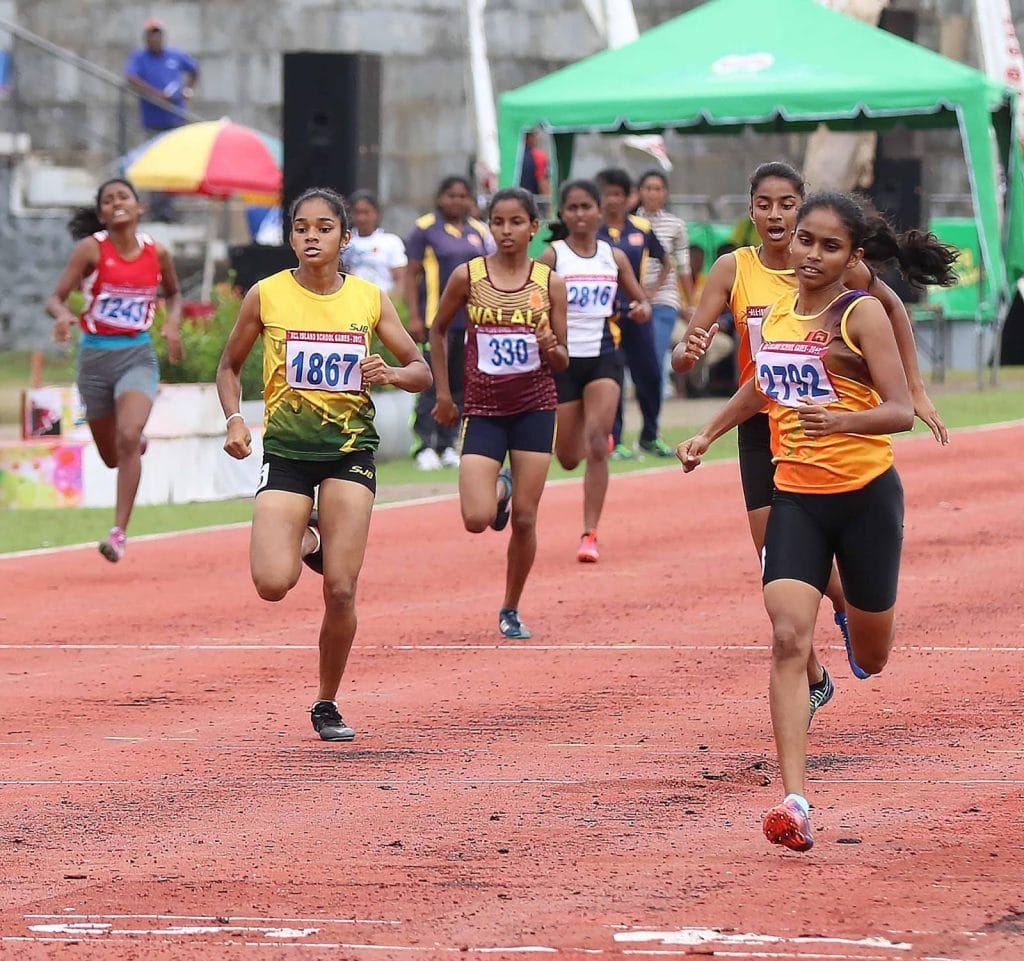 In a tightly fought 400 U18 boys final Benedictine Ravindra Indrajith managed to get in front at the last moment clocking 48.80 to clinch gold, H S Karunarathne of Walala A Ratanayake M V was a close second with a time of 48.85. Adeesha Anjan from Lumbini Colombo was placed third clocking 49.36.  Benedictine Indrajith was put under pressure from the word go by Karunarathne but managehd to hold his nerve in the final few yards to claim gold.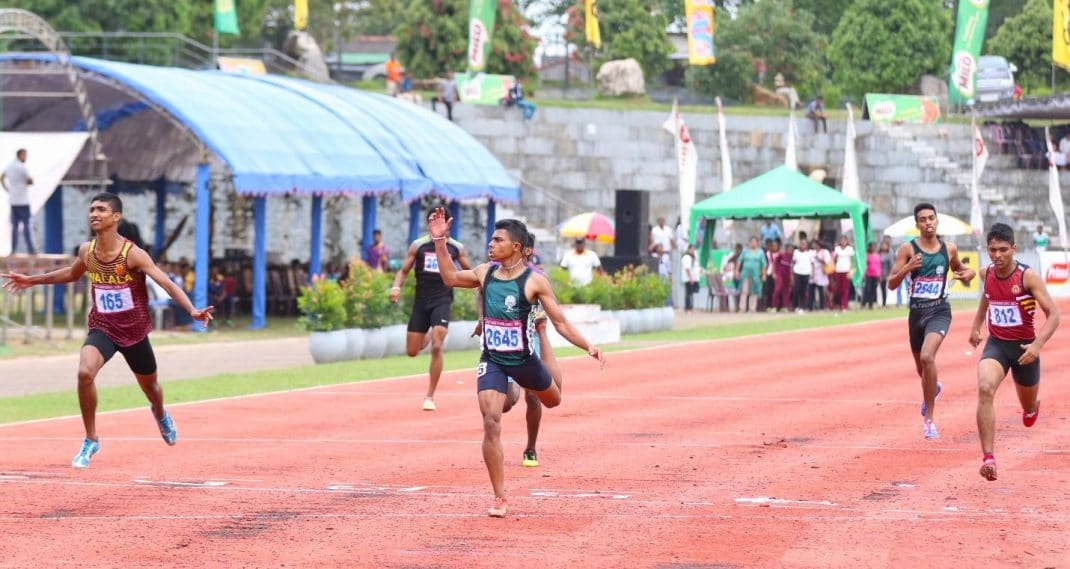 Finals Results of Day 02