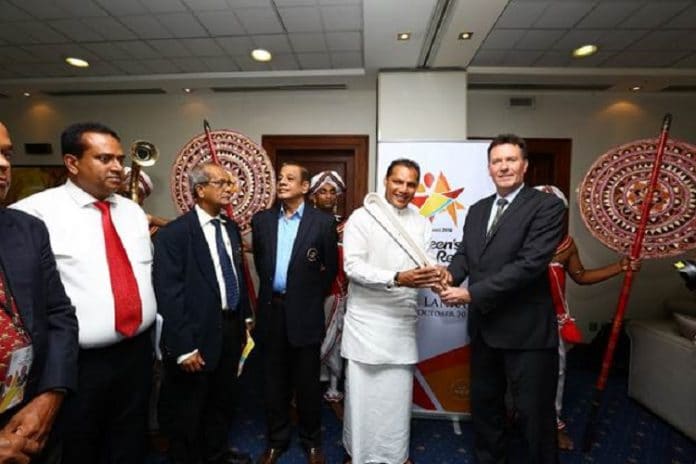 The Queens Baton Relay 2017, forerunner of the 21st Commonwealth Games which will be worked out in Gold Coast Australia, April next year arrived in the Island yesterday (12th).
The Queens Baton relay constitutes a baton that travels around the world carrying the message of the Commonwealth games across the globe. The Minister of Sports Hon. Dayasiri Jayasekara received that baton from the representatives of the commonwealth committee at the Bandaranaike International Airport and subsequently it was presented to the Hon. President Maithreepala Sirisena at the President's house yesterday.
Gold Coast 2018 Queens Baton Relay which commenced its journey on Commonwealth Day, 13th March 2017, from the historic forecourt of the Buckingham Palace marked the official countdown to the start of the games. Her Majesty Queen Elizabeth II heralded the start of the relay by placing her 'message to the Commonwealth and its athletes' into the distinctive loop-design Queen's Baton which then set off on its journey around the globe.
The Gold Coast 2018 Queen's Baton Relay is set to be the longest in Commonwealth games history covering 230,000km over 388 days, the Baton will make its way through the six Commonwealth regions of Africa, the Americas, the Caribbean, Europe, Asia and Oceania. The Baton traveled to Sri Lanka from Bangladesh and is set to travel to Malaysia on the 16th of October and will then travel to Brunei and Singapore to complete the Asian leg of the Baton tour. It will then begin its journey across Oceania and is set to arrive in Australia on Christmas eve to commence the 100-day tour around the host country which will conclude at the opening ceremony of the competition.
Designed for each Games by the host nation, the 2018 Queen's Baton has been made using macadamia wood and reclaimed plastic, sourced from Gold Coast waterways, and inspired by the region's vibrant spirit and indigenous heritage.