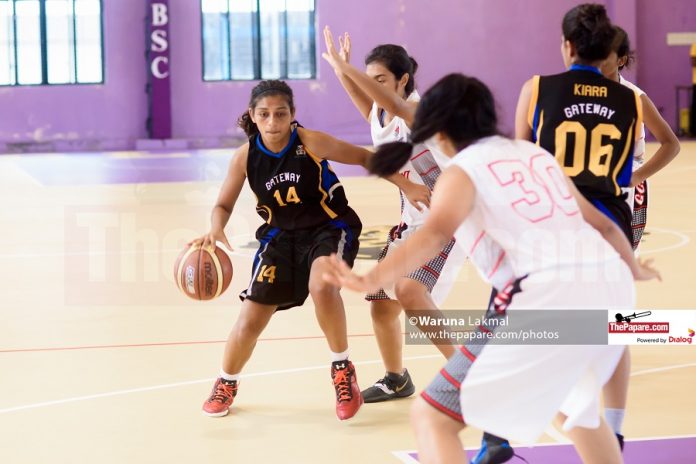 The first half of day 02 of the Inter-International Basketball Championship 2018 was held at the indoor basketball court at British International School Colombo this morning (6th October 2018).
The morning session comprised of three games in the under 20 category with Gateway College Colombo, Royal International School and Lyceum International School Panadura collecting another win surpassing Gateway College Kandy, Elizabeth Moir (Boys) and Elizabeth Moir (Girls) respectively.
Gateway College Colombo vs Gateway College Kandy – (Girls)
The first match of the second day commenced with Gateway College Colombo taking on Kandy. Colombo takes control of the game from the very onset kicking off the points with a three pointer. Sandali Puja Liyanage managed to summon up the most baskets in favour of Gateway Colombo enclosing halftime with an eight point lead.
The second half of the game started with some well exeecuted shots from Gateway Colombo. The third quarter of the match seemed to take Gateway College Kandy into turmoil and
only got away with one successful conversion in this round. Even though Gateway College Kandy fought back in the final quarter they could not get hold off Gateway College Colombo.
Gateway College Colombo collects an easy win against Gateway College Kandy, 46 – 23
---
Royal Institute vs Elizabeth Moir School – (Boys)
Both teams were going head to head with Elizabeth Moir taking the lead of the first quarter at 15-13. Royal Institute showcased some 3 point conversions earning the maximum from beyond the perimeter. However Elizabeth Moir lost pace in the second quarter while Royal Institute dominated by the end of the first half in front at 29-19.
Royal Institute skipper Janith saved no mercy for their rivals taking up the score further in the third quarter. Similarly Kaleb captain of Elizabeth Moir showed profound charisma with the most number of baskets for his team. Elizabeth Moir lost out mostly by gifting quite a few free throws to Royal Institute. Royal Institute stood strong against Elizabeth Moir who gave chase quite well in the final few minutes of the match.
The game rounds up with Royal Institute in the lead 57 – 45.
---
Elizabeth Moir School vs Lyceum International School Panadura
Lyceum International School Panadura allows Elizabeth Moir to keep control of the first half. Evmi Silva stood out with her performance beyond the perimeter. Elizabeth Moir School still in front at half time with 16 – 15.
The Second half of the game was totally controlled by Lyceum International School Panadura who set the pace of the game at top-notch. Elizabeth Moir School tried their best to reach out holding on to their defence but lagged in making any notable scores.
Lyceum Panadura hrabs hold of an easy win with 40-23.