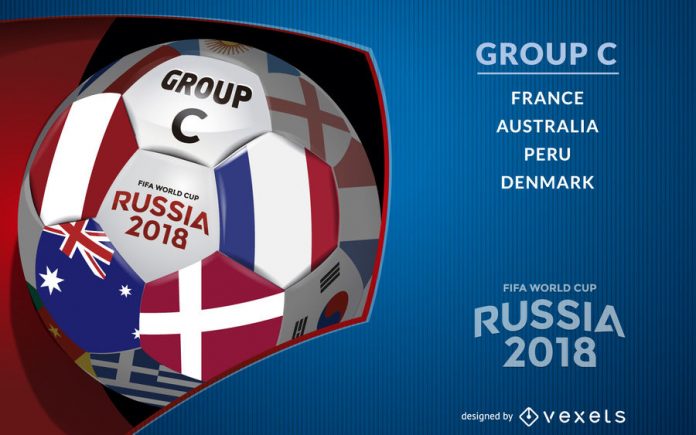 France looks the firm favourites to top the group with Peru, Denmark and Australia, all three who entered the competition via play offs vying to prove their worth by qualifying for the knock outs.
 Read More: World Cup 2018: Preview – Group B
 Teams
France (FIFA Ranking – 7th)
France came agonizingly close to winning Euro 2016 on their home soil only to go down in the finals against Ronaldo-less Portugal.
A relatively fuss less qualifying campaign, France will come into the World Cup as one of the favourites to win the trophy.
France won the World Cup on home soil in 1998 under Didier Deschamps. Then captain has served France and this year has a talented and balanced outfit to replicate the success. France has been off the road in last two World Cups, bowing out in the group stage in 2010 and losing to Germany in the quarter finals in Rio de Janeiro.
Having narrowly missed out on continental glory two years ago at Euro 2016, the strong…
France is gifted with some of the heavy weights at their disposal. Paul Pogba, Antoine Griezmann, N'golo Kante, Kylian Mbappe, Ousmane Dembele and the list grows on. They have all bases covered with some big tournament experience and exposure in their favour.
On its day, the team can beat any other, but will they make it count remains a question, but we have a winner of the group in France unless they brain freeze themselves to oblivion.
Australia (FIFA Ranking – 36th)
Australia was one of the last few teams to book their ticket to Russia as they beat Honduras in playoff match, in which veteran Mile Jedinak scored a hat trick.
Their first ever appearance in World Cup dates back to 1974 but they had to wait till 2006 to get another go. From then, they have participated in every single World Cup editions. Yet the performances were not so eye catching with the best being Round of 16 qualification.
Despite having the services of ever young Tim Cahill and Mile Jedinak, they have to up their game to get into the knock outs. Mooy will look to bring his EPL form to World Cup.
They beat Hungary and Czech Republic and drew against Colombia, not bad coming into the competition. Australia has what it takes to cause some upsets and shake up the group. If luck favours them and if they can get some results as they wish, they may sneak into the Round of 16. But it is better for them to bank on the preparation and experience they possess.
Peru (FIFA Ranking – 11th)
La Blanquirroja is making to the grandest stage of them all after an absence of 36 long years. The three-time quarter finalist are one of the few to take part in the first ever World Cup.
Just like Socceroos, Peru had to fight their way into this edition in a playoff battle against New Zealand. In a very interesting and thrilling South American qualifying campaign, Peru pipped the South American champions Chile via goal difference to earn a playoff against New Zealand.
Denmark, Australia and underdogs Peru has a great opportunity to make it to the knockout stages of the 2018 FIFA World Cup from Group C.
Now having achieved the goal of getting into the world cup, they look ahead to get to knock outs. Jeferson Farfan who plays in Russian League may come in handy this time and Coach Ricardo Gareca will try to make the most out of his experience.
Leading into the tournament, Peru has managed four victories in their last four friendlies and that will boost them arriving in Russia. They have waited for 36 years to enter the tournament, but if they believe and try, they can further advance in the competition.
Denmark (FIFA Ranking – 12th)
Denmark is the third team in the group to get selected to participate in this World Cup after winning a play off. They decimated Northern Ireland in a second leg rout to reach the tournament which they failed in 2014.
Denmark's big tournament exposure remains a concern as they failed to make it to both 2014 World Cup in Brazil and 2016 Euros in France. In their last two friendlies, they drew against Sweden before beating Mexico which will play a pivotal role in preparations to the competition.
A world class player in Christian Eriksen will be a strength for the side. Kasper Schmeichel, the custodian will also have to be at his best using his title winning experience with Leicester City two years back.
Denmark will also sense their chances to go past group stages in a group like this. But there is no margin for error since the qualification may boil down to goal difference. 
Fixtures
16th June – France vs Australia – 15:30 local time – Kazan Arena, Kazan
16th June – Peru vs Denmark – 21:30 local time – Mordovia Arena, Saransk
21st June – Denmark vs Australia – 17:30 local time – Samara Arena, Samara
21st June – France vs Peru – 20:30 local time – Ekaterinburg Arena, Ekaterinburg
26th June – Australia vs Peru – 19:30 local time – Fisht Olympic Stadium, Sochi
26th June – Denmark vs France – 19:30 local time – Luzhniki Stadium, Moscow
Key Fixtures
16th June – Peru vs Denmark – 21:30 local time – Mordovia Arena, Saransk
Maybe the decider of the second spot of Group C with both Denmark and Peru fighting out for early advantage.
The meeting early in the group will result in early outcome of the winners and runners up of the group. With little separating both teams, it will be interesting to see how both teams will play and a draw can blow the group wide open giving Australia a chance as well.
26th June – Denmark vs France – 19:30 local time – Luzhniki Stadium, Moscow
Denmark v France play a pivotal part in deciding the fate of Group C. France being the obvious favourites will be tested by resolute Danes who will probably be fighting for their lives.
Below you can find the complete schedule of the upcoming FIFA World Cup Russia, which is…
With goal difference scenarios coming into play since it's the last game, the outcome will be closely monitored and how teams will play based on different scenarios will be interesting as well making this fixture even more intense.
Prediction
It is a no brainer to think France will top the group. They are one of the tournament favourites and will look to stamp the authority from the first match itself. This will leave both Peru and Denmark fighting for the remaining spot, but don't write off Australia yet.
>>For more World Cup News Click Here <<