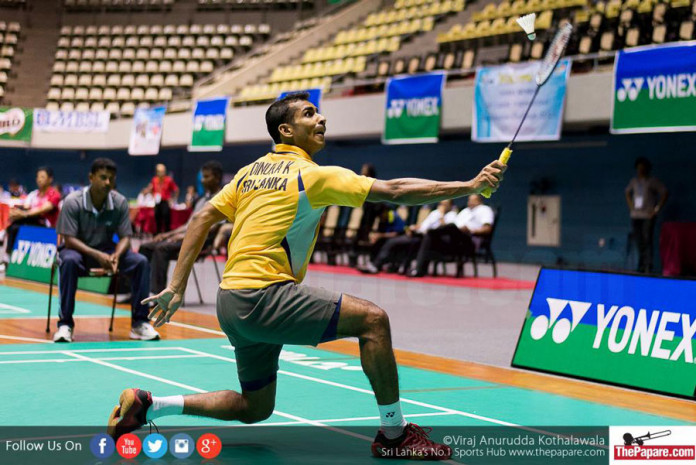 Nishantha Jayasinghe who secured 33 votes in total at the Annual General Meeting will be entrusted with the top most position at Sri Lanka Badminton as he undertakes the duties of the presidency.
Sri Lanka Badminton (SLB) which is the national governing body for the sport in the country held their Annual General Meeting on the 25th of March 2017 and it was a contest between Jayasinghe and Roshan Gunawardena for the top chair.
While Jayasinghe won convincingly securing 33 votes, Roshan Gunawardena succeeded in only getting 12 votes. Outgoing president, Suraj Dandeniya opted to not contest for any of the posts and the national body moved forward to appoint two vice-presidents since the votes were equaled at 42.
Respectively Rohan de Silva and Chamara Perera will be the two vice-presidents for the next tenure while Clarence Homer has been appointed uncontestedly for the post of secretary.
The election that took place in the Sri Lanka Badminton premises had the participation of all voting bodies that include the. provincial associations registered clubs and the schools association.
A full list of officials:
President – Mr. Nishantha Jayasinghe
Secretary – Mr. Calrance Hormer
Vice Presidents – Mr. Rohan De Silva & Mr. Mohan Wijesinghe
Executive Committee
• Mr. Chamara Perera
• Mr. Chamara Aluthge
• Mr. Harsha Hiyarapitiya
• Mr. Jevan Prasad
• Mr. Duminda Jayakody
• President SLSBA (Ex Officio)
Assistant Secretaries
• Mr W Kumara
• Mr Thilak Jayasiri
Treasurer
• Mr. G. G Magala
Assistant Treasurer
• Mr. K Ketapearachchi