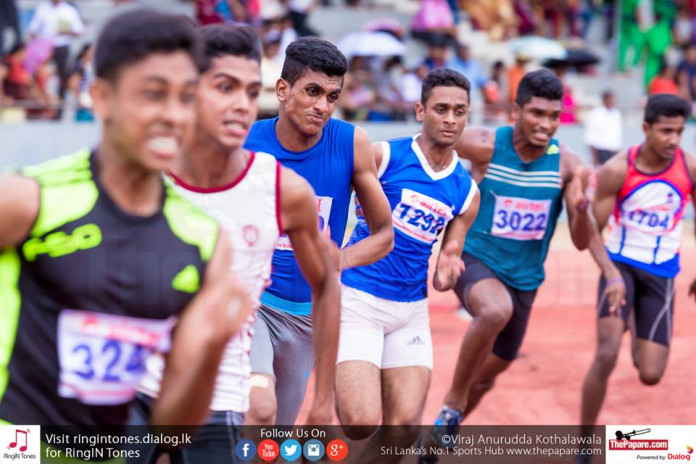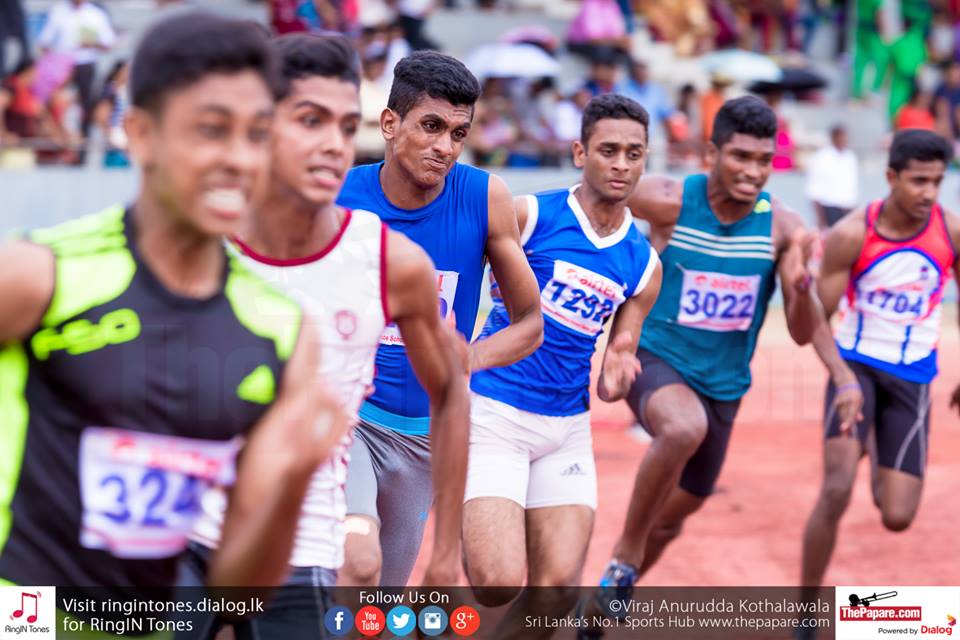 The Island's oldest athletic competition, the Sir John Tarbet athletic championship commenced yesterday (4th July) at the Diyagama Mahinda Rajapakse stadium. Athletes in the age categories of Under 16, 18 & 20 will compete in the three day competition.
The first day of the meet saw the completion of 18 finals and it is interesting to note that  the winners emerged from a variety of schools from around the Island, paving the way for an interesting two days of competition that is sure to heat up as the athletes will be eager to win the overall championships for their respective alma mater.
It is encouraging to note the growing participation of the international school students who are challenging the public school athletes and giving them a run for their money.  This was evident with a large number of today's winners emerging from the international schools.
Stay logged onto www.thepapare.com as we are dedicated to bringing you the latest updates from Sri Lanka's oldest schools' athletic meet.
SIR JOHN TARBAT SENIOR ATHLETICS CHAMPIONSHIP
Day 01
Final results
| | | | | |
| --- | --- | --- | --- | --- |
| E: No. | 101 | 5000m | Under 20  Boys |   |
| S No | BIB | Name of Athlete | School | Achivement |
| 1 | 643 | J.M. ERANDA MADUSANKA | PRESIDENT  COLLEGE | 16:20.74 |
| 2 | 1781 | GDCD ALWIS | SRI RAHULA COLLEGE – KATUGASTOTA | 16:28.59 |
| 3 | 1747 | MA LASITHA SANDARUWAN | EMBILIPITIYA RATHNALOKA MV | 16:48.64 |
| | | | | |
| E: No. | 102 | Long Jump | Under 16  Boys |   |
| S No | BIB | Name of Athlete | School | Achivement |
| 1 | 479 | W.H.H. MENDIS  ABEYSEKARA | SIDDHARTHA  M.M.V. – BALAPITIYA | 6.74 |
| 2 | 1023 | I.W. DEVINDU PRADEEP | D.S. SENANAYAKE  COLLEGE  – COLOMBO  07 | 6.32 |
| 3 | 707 | PASINDU  SIHINA | DE  MAZANOD  COLLEGE – KANDANA | 6.24 |
|   |   | | |   |
| E: No. | 103 | Triple Jump | Under 20  Girls |   |
| S No | BIB | Name of Athlete | School | Achivement |
| 1 | 274 | M.M. HASHINI  PRABODHA | HOLY  FAMILY  BALIKA  M.V. – WENNAPPUWA | 12.42 |
| 2 | 354 | N.G.P.R. GUNATHILAKA | SUMANA  BALIKA  VID – RATHNAPURA | 11.43 |
| 3 | 1124 | WP DULMINI KAVINDYA | RAJASINGHE CC – HANWELLA | 11.41 |
|   |   | | |   |
| E: No. | 104 | Shot Putt (4Kg) | Under 20  Girls |   |
| S No | BIB | Name of Athlete | School | Achivement |
| 1 | 524 | JAANE  GAYANA  DE SILVA | AVE  MARIA  CONVENT  – NEGOMBO | 10.34 |
| 2 | 1102 | KESHANI B TENNAKOON | RANPATHWILA MV | 9.54 |
| 3 | 237 | H.M.L.K. SENARATHNA | VIJAYABA  NATIONAL SCHOOL – MAHO | 9.43 |
|   |   | | |   |
| E: No. | 105 | Pole Vault | Under 18  Boys |   |
| S No | BIB | Name of Athlete | School | Achivement |
| 1 | 166 | A. PUVITHARAN | CHAVAKACHCHERI  HINDU  COLLEGE | 4.20 |
| 2 | 167 | N. BANUJAN | CHAVAKACHCHERI  HINDU  COLLEGE | 3.40 |
| 3 | 94 | R.J.M.K.R.C. RAJAPAKSHA | A. RATHNAYAKE  C.C. – WALALA | 3.20 |
|   |   | | |   |
| E: No. | 106 | Discuss Throw | Under 20  Boys |   |
| S No | BIB | Name of Athlete | School | Achivement |
| 1 | 1746 | NPLK PATHIRANA | EMBILIPITIYA RATHNALOKA MV | 43.12 |
| 2 | 179 | S. PIRAGASRAJ | HARTLEY  COLLEGE – POINT  PEDRO | 41.01 |
| 3 | 1127 | THURITH  BARANA  HAPUTHANTHRI | ASIAN  INTERNATIONAL  SCHOOL | 38.02 |
| | | | | |
| E: No. | 120 | Javeling Throw | Under 18  Boys |   |
| S No | BIB | Name of Athlete | School | Achivement |
| 1 | 261 | W. SANITH  ANJANA | ST. JOSHEP VAZ  COLLEGE – WENNAPPUWA | 65.29 |
| 2 | 303 | K.A. CHARUKA  RUKSHAN | ST. MARY'S  COLLEGE – CHILAW | 63.54 |
| 3 | 743 | R.M.L.D. RANASINGHE | BANDARANAYAKE  COLLEGE – GAMPAHA | 57.99 |
| | | | | |
| E: No. | 121 | High Jump | Under 18  Girls |   |
| S No | BIB | Name of Athlete | School | Achivement |
| 1 | 1035 | K Shanika Madubashini Perera | TAXILA CC – HORANA | 1.60 |
| 2 | 511 | NIRMANI  RAJAPAKSHA | AVE  MARIA  CONVENT  – NEGOMBO | 1.55 |
| 3 | 922 | KOSHILA  AMARASINGHE | HOLY  FAMILY   CONVENT – COLOMBO  04 | 1.55 |
| | | | | |
| E: No. | 122 | Shot Putt | Under 16  Boys |   |
| S No | BIB | Name of Athlete | School | Achivement |
| 1 | 1692 | AKALANKA WIJESURIYA | ST PETER'S COLLEGE COLOMBO 4 | 14.78 |
| 2 | 2367 | IK SUPUN MADUSARA | WELIPENNA SINHALA KV | 13.73 |
| 3 | 827 | J.SANDRESH  BONIFAS | O.K.I. INTERNATIONAL  SCHOOL – WATTALA | 13.10 |
| | | | | |
| E: No. | 123 | Long Jump | Under 20  Boys |   |
| S No | BIB | Name of Athlete | School | Achivement |
| 1 | 593 | ISHAN  DIMUTH | RICHMOND  COLLEGE – GALLE | 7.03 |
| 2 | 1650 | BGMH JAYATISSA | ST. BENEDICT'S COLLEGE – COLOMBO 13 | 7.02 |
| 3 | 592 | G. IRUSHA  MALINDA | RICHMOND  COLLEGE – GALLE | 6.93 |
| | | | | |
| E: No. | 130 | Long Jump | Under 18  Boys |   |
| S No | BIB | Name of Athlete | School | Achivement |
| 1 | 1607 | W SASINDU NUWINDA | SIRI PIYARATHNA CC PADUKKA | 6.93 |
| 2 | 894 | PRAMODH  MADUBASH | MARISSTELLA COLLEGE – NEGOMBO | 6.84 |
| 3 | 450 | D.M.R. DASSANAYAKA | ST. MARY'S  COLLEGE – KEGALLE | 6.70 |
| | | | | |
| E: No. | 131 | High Jump | Under 20  Girls |   |
| S No | BIB | Name of Athlete | School | Achivement |
| 1 | 741 | POORNIMA  GUNARATHNE | LEEDS   INT. SCHOOL – PANADURA | 1.70 |
| 2 | 465 | RANDI  COORAY | GATEWAY  COLLEGE | 1.65 |
| 3 | 1122 | KP NIMMI SAWMMYA | HOLLY FAMILY CONVENT – WENNAPPUWA | 1.50 |
| 3 | 551 | SHENALI  WEERAPPERUMA | ST. LAWRENCE  CONVENT – COLOMBO  06 | 1.50 |
|   | | | | |
| E: No. | 132 | Discuss Throw | Under 20  Girls |   |
| S No | BIB | Name of Athlete | School | Achivement |
| 1 | 355 | M.P.B ASIRI | SUMANA  BALIKA  VID – RATHNAPURA | 32.78 |
| 2 | 356 | S.S. MADUSHANI | SUMANA  BALIKA  VID – RATHNAPURA | 30.83 |
| 3 | 357 | J.M.C. MADUWANTHI | SUMANA  BALIKA  VID – RATHNAPURA | 28.94 |
| | | | | |
| E: No. | 145 | Shot Putt | Under 18  Girls |   |
| S No | BIB | Name of Athlete | School | Achivement |
| 1 | 921 | SHAHINI  PETERSON | HOLY  FAMILY   CONVENT – COLOMBO  04 | 10.04 |
| 2 | 951 | RASHMI  HEENKENDA | LYCEUM  INTERNATIONAL  SCHOOL – WATTALA | 10.01 |
| 3 | 1144 | KADT WASANA KUMARI | RAJASINGHE CC – HANWELLA | 9.99 |
| | | | | |
| E: No. | 146 | High Jump | Under 20  Boys |   |
| S No | BIB | Name of Athlete | School | Achivement |
| 1 | 915 | USHAN  THIWANKA | MARISSTELLA COLLEGE – NEGOMBO | 2.13 |
| 2 | 1539 | PKV RATHNAYAKE | DUDLY SENANAYAKE CC – THOLANGAMUWA | 2.02 |
| 3 | 1750 | BK RASIKA RUWAN SENADEERA | RAHULA NS – GODAKAWELA | 1.97 |
| | | | | |
| E: No. | 147 | Triple Jump | Under 16  Boys |   |
| S No | BIB | Name of Athlete | School | Achivement |
| 1 | 295 | S. ROSHEN  DULMIN | ST. MARY'S  COLLEGE – CHILAW | 13.29 |
| 2 | 871 | AYESHMANTHA  DE  SILVA | MARISSTELLA COLLEGE – NEGOMBO | 13.16 |
| 3 | 480 | T. YOSUWA  SERON | SIDDHARTHA  M.M.V. – BALAPITIYA | 13.01 |
| | | | | |
| E: No. | 148 | Javeling Throw | Under 16  Girls |   |
| S No | BIB | Name of Athlete | School | Achivement |
| 1 | 79 | D.M.I. HASANTHI  DISSANAYAKA | A. RATHNAYAKE  C.C. – WALALA | 37.43 |
| 2 | 328 | H.A.V.L.K. HAPUARACHCHI | SUMANA  BALIKA  VID – RATHNAPURA | 33.26 |
| 3 | 904 | S. HANSIKA  KUMARI | GOOD  SHEPHERED  CONVENT  – COLOMBO  13 | 29.80 |
| | | | | |
| E: No. | 313 | 100MH | Under 20  Girls | Final |
| S No | BIB | Name of Athlete | School | Achivement |
| 1 | 354 | N.G.P.R. GUNATHILAKA | SUMANA  BALIKA  VID – RATHNAPURA | 15.52 |
| 2 | 369 | GAYANI  PARANAMANAGE | ST. MARY'S  CONVENT – MATARA | 16.14 |
| 3 | 953 | MAHESHI  GUNASENA | LYCEUM  INTERNATIONAL  SCHOOL – WATTALA | 16.93 |