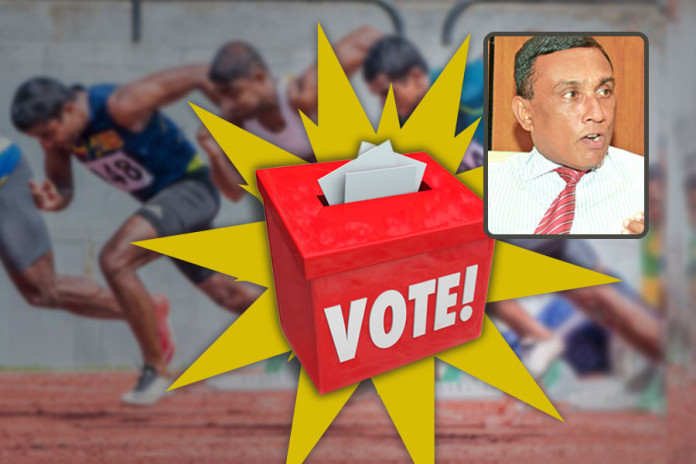 Former President of the Athletic Association of Sri Lanka (AASL) Maj. General Palitha Fernando was elected as the President for a two year term today at the Annual General Meeting of the AASL held today (30th) at the National library auditorium premises.
Fernando entered into contest with the outgoing President Sugath Thilakarathne and secured a landslide victory against the latter as the votes read 32 to 79 in favor of Fernando. Veteran sports administrator Prema Pinnawela was appointed as the Secretary uncontested and will make a great paring to Fernando who will be focused on reviving athletics in the island.
Shantha Silva was appointed as the treasurer of the new committee while Bernard Perera and H A Upali will be serving the committee as Asst. Secretary and Asst. Treasurer respectively. As per the constitution, 7 vice presidents were elected out of the 13 who handed their nominations and interestingly includes two female members. According to the norm a female vice president is included in the list if a female contestant in not included in the elected 7 members.  Out of the 7 elected members Lal Chandrakumara had secured the most number of votes securing 68 votes in total.
The new committee is required to get into business straight away as they are tasked with holding the 2nd national trial that will finalize the squad that will represent Sri Lanka at the Asian Athletic Championship in India.
Newly appointed AASL committee
President – Maj Gen Palitha Fernando
Secretary – Prema Pinnawela
Vice Presidents – Lal Chandrakumar , G L S Perera , S.W Nimalasiri, Anil Weerasinghe, A H M Akmal, Nayanthi Chandrasena, Irangani Rupasinghe
Treasurer – Shantha Silva
Asst. Secretary – Bernard Perera
Asst. Treasurer – H A Upali