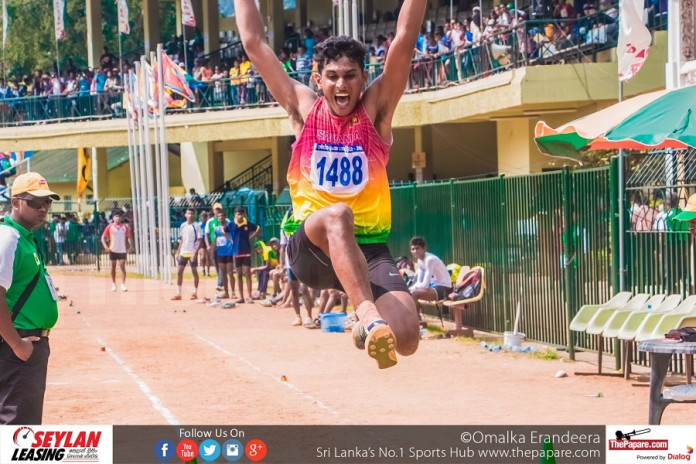 Another exciting day at the All Island Schools Games commenced today at the Bogambara Stadium as scheduled for the third consecutive day. Day 03 turned out to have only Semi Finals and Finals which meant most of the athletes who competed today had a chance of winning a medal or achieving Colors for their prospective event.
There two new meet records set today when J. Aniththa of Northern Province recorded a height of 3.30m in the Pole Vault of the U21 girls' category. Another record was set in the U15 Boys' 100m hurdles by Central Province's Anuradha Srimal clocking a time of 13.6 secs. The previously held record was by Sudhara Weerakoon who had clocked 13.73 seconds.
During the day a total of 111 medals were given out in 37 of the finals held. Day 03 started at the scheduled 8.30am mark with the Field events finals of the Discus Throw U21, Javelin Throw U15 Boys' and Shot Put U19 Girls', U21 Pole Vault Girls'.
It was followed up by the 100m hurdles finals across all groups (u15-u21) which had a total of 8 exciting races. The exciting 100m semi-finals then took place where athletes who qualified from the heats yesterday participated.
The second session of the day commenced with the U19 Boys' discuss throw, U15 Girls' Javelin throw, U17 Shot Putt throw for the Girls' and U15 High Jump Boys' finals commencing at the same time. In the girl's long Jump final Nethmi Megawarna of Central province won Gold with a distance of 2.10m. P. Jayawardana of Eastern Province won Gold in the final of the U21 Boys' Discus throw.
The 1500m finals were next in line to be run which were all medal contested events. A thrilling race ensued and L.Gunarathna of Central Province won gold going toe to toe with M. Samaraweera of Central province. The two athletes were only a fraction of a second apart with Gunaratjna winning gold with a time of 4 minutes and 03 seconds.  In the Girls U21's 1500m final P Abeysinghe clinched top honors with a timing of 4 minutes 52 seconds.
The final event of the third day was the 4x 400m heats of all the age groups. Most of the Western and Central province teams qualified for the finals to be held today.