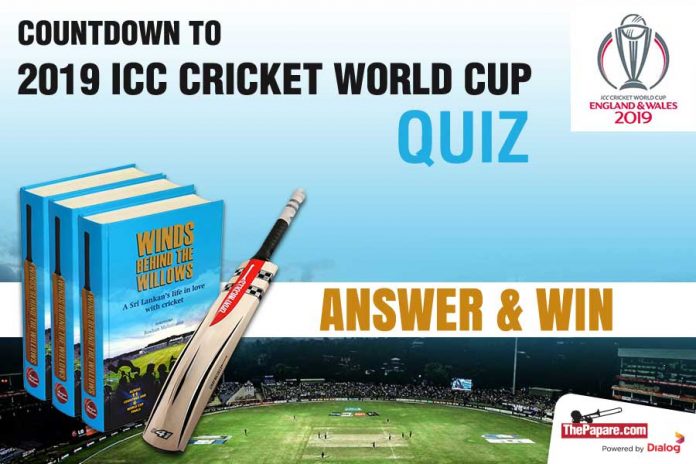 The 1996 Cricket World Cup was also known as the Wills World Cup after its official sponsors, the first World Cup to be co-hosted by Sri Lanka. It got off to an inauspicious and controversial start.
On 31 January 1996, the Liberation Tigers of Tamil Eelam (LTTE) carried out a deadly bomb attack in Colombo Fort, the financial hub of Sri Lanka that targeted the Central Bank. Known as the Tamil Tigers, the LTTE was fighting for a separate state for the minority Tamils in the north and east of Sri Lanka. The blast killed 91 and injured over a thousand, even causing considerable damage to my (bank) branch situated around 200 metres away.
Shane Warne and Craig McDermott had complained of death threats prior to this ignominious event, over their World Cup commitments in Sri Lanka. The Australian Cricket Board got through to the Sri Lankan foreign ministry and was assured of tight security for all visiting teams.
In an after-dinner speech during the 2004 ICC Champions Trophy in England, Sri Lanka's charismatic foreign minister Lakshman Kadirgamar recalled some interesting moments:
In the run-up to the 1996 World Cup, Australia refused to play a match in Colombo, citing security reasons. Shane Warne said he wouldn't come to Colombo because he couldn't do any shopping there. The press asked me for a comment. I said, 'shopping is for sissies'. There was a storm of protest in Australia… A TV interviewer asked me whether I had ever played cricket. I said I had played before he was born – without helmets and thigh guards, on matting wickets that were full of holes and stones, and I had my share of broken bones to show it.
The affable Sir Clyde Walcott, heading the ICC at the time, tried to persuade the West Indies to change their minds. Despite that, Australia and the West Indies refused to send teams and forfeited their games to Sri Lanka.
Contrary to popular belief, the ICC, though they had cleared Sri Lanka's venues, initially wanted to award points for these matches to Australia and West Indies. Then they wanted the points shared, and when Sri Lanka's representatives – Ana Punchihewa, president, and Hilary Marcelline, secretary of the BCCSL (Board of Control for Cricket in Sri Lanka) – disagreed, they took a vote and Sri Lanka lost. Ironically, even India voted against Sri Lanka. It was a raw deal. Fortunately, Punchihewa and Marcelline used simple logic to convince some members who had voted against them earlier. Sri Lanka by now, quite rightly, had the sympathy of Sir Walcott and some others and managed to win the second vote. It earned them four valuable points.
The boycott almost guaranteed Sri Lanka's passage to the quarter-finals. Woe unto me. Those forfeited were the only matches of the 1996 Wills World Cup I yearned to watch from the upper tier of R. Premadasa Stadium (RPS).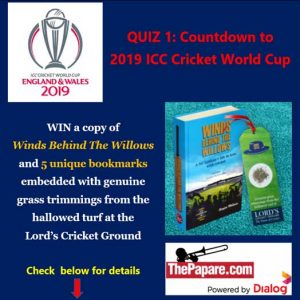 Then, to the delight of all Sri Lankan fans, in a magnanimous gesture, top Indian and Pakistani cricketers formed a combined 'Wills XI'. It was to play a hurriedly organised exhibition match in Colombo, to express solidarity with Sri Lanka.
The match was a 40-over affair and played for the 'Wills Solidarity Cup'.
On 13 February 1996, the Premadasa Stadium was packed with emotionally charged Sri Lankans, holding Indian, Pakistani and Sri Lankan flags together. The Indian and Pakistani cricketers were greeted with rapturous applause when they arrived at the stadium.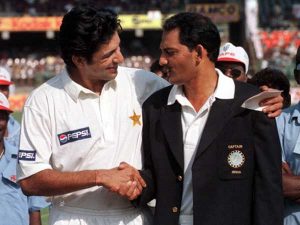 Wasim Akram reportedly arrived with only part of his cricket gear. Though they were arch-rivals, he borrowed a shirt for the match from the Wills XI captain Mohammad Azharuddin. After some entertaining cricket, Wills XI easily won against the Sri Lankan XI, playing minus Aravinda de Silva and Roshan Mahanama.
The result was of little consequence to most of us and we may not see a similar game of cricket showcasing subcontinental unity again. Along with my friends Thusith and Nalin, in praise of the wise man who invented beer, we created a beer snake with ninety-two 'Lion Lager' cups. So focused, we realised that the match was over and that the players had left the field only when we finished its construction.
While leaving the ground, I bumped into one of the officiating umpires, Cyril Mitchely.
When asked about Muralidaran's action, he replied, 'There's nothing wrong with Murali's action. He's not a chucker.'
The scorecard:
SRI LANKA innings (40 overs maximum)
Sanath Jayasuriya

Romesh Kaluwitharana+

Asanka Gurusinha

Arjuna Ranatunga*

Marvan Atapattu

Hashan Tillakaratne

Upul Chandana

Kumar Dharmasena

Chaminda Vaas

Muttiah Muralidaran

Ravindra Pushpakumara

c Tendulkar

c Jadeja

c Anwar

c &

c Sohail

c Azharuddin

c Azharuddin

not out

not out

b Waqar

b Akram

b Tendulkar

b Kapoor

b Kapoor

b Kumble

b Kumble

b Kumble

b Kumble

6

6

34

32

18

15

7

10

11

5

3

Extras
(lb 4, w 13, nb 4)
21
TOTAL
(9 wickets, 40 overs)
168

FoW:
1-12, 2-16, 3-86, 4-112, 5-114, 6-126, 7-146, 8-149, 9-157
Bowling
O
M
R
W
Wasim Akram

Waqar Younis

Sachin Tendulkar

Ashish Kapoor

Anil Kumble

Aamir Sohail

5

6

7

8

8

6

0

0

0

0

1

0

16

32

41

34

12

29

1

1

1

2

4

0

(1nb, 4w)

(3nb, 2w)

(3w)

(1w)

(3w)
WILLS XI innings (40 overs maximum)
Sachin Tendulkar

Saeed Anwar

Aamir Sohail

Mohammad Azharuddin*

Ijaz Ahmed

Ajay Jadeja

Rashid Latif+

Waqar Younis

c Dharmasena

lbw

c Pushpakumara

lbw

c Tillakaratne

c +Kaluwitharana

not out

not out

b Muralidaran

b Dharmasena

b Muralidaran

b Chandana

b Chandana

b Vaas

36

16

10

32

18

28

21

5

Extras
(lb 3, w 1, nb 1)
5
TOTAL
(6 wickets, 34.3 overs)

171
Did not bat:
Wasim Akram, Anil Kumble, Ashish Kapoor
FoW:
1-53, 2-65, 3-82, 4-113, 5-126, 6-164
Bowling
O
M
R
W
Chaminda Vaas

Ravindra Pushpakumara

Kumar Dharmasena

Muttiah Muralidaran

Upul Chandana

Hashan Tillakaratne

7.3

4

6

8

8

1

0

0

1

0

0

0

43

24

17

46

35

3

1

0

1

2

2

0

(1nb)
Toss: Wills XI                  Man of the match: Anil Kumble (Wills XI)

Umpires: C. J. Mitchely (South Africa) and Mehboob Shah (Pakistan)
(An extract from 'Winds Behind The Willows'.)
QUIZ 2: Countdown to 2019 ICC Cricket World Cup
Win a copy of 'Winds Behind The Willows' and 5 unique bookmarks embedded with genuine grass trimmings from the hallowed turf at the Lord's Cricket Ground.
All you have to do to is to answer the question below correctly, the winners to be selected from the correct entries received up to 1200 GMT on 31 August 2018.
Only one answer per email address is permitted. Winners will be notified by email.