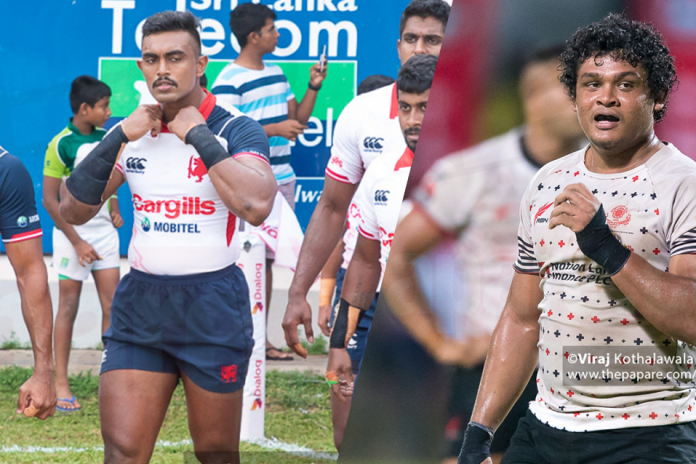 Sri Lanka Rugby (SLR) have announced the two squads for the State of the Origin battle that is set to kick  off on the 11th of April 2019 at Havelock Park.
The encounter which was a brainchild of ThePapare's columnist Boa Athu, will be organized as a fundraiser for Chandrishan Perera.
Read More: A game of rugby for Chandrishan Perera
The game will also serve as a selection trial for the Sri Lanka national XV's squad as they prepare for the Asia Division I Rugby Championship that will take place in May this year.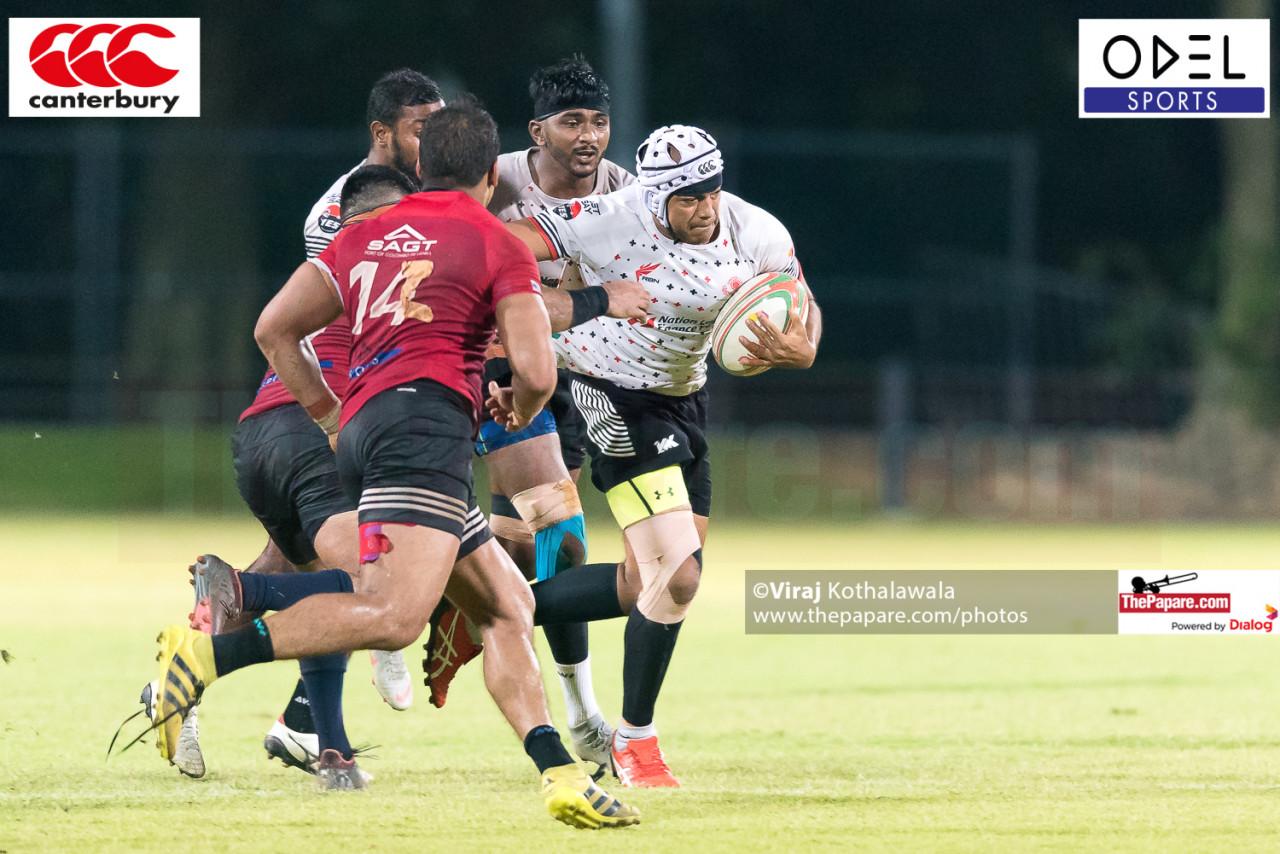 The squads have been named according to the schools that they represented and the players from the concluded Dialog Rugby League who had their secondary education in schools in the Colombo locality will compile the Colombo outfit.
Read More: Clifford Cup fixtures out!
The rest will make up the Rest of the Country or Outstation origin side.
The Colombo side will have the likes of league winning skipper of Kandy Sports Club Richard Dharmapala alongside Havelock's captain Niroshan Fernando.
Read More: School Rugby intensifies – Week 3 Preview
Meanwhile the outstation outfit will comprise of the CR & FC captain Kavindu Perera, CH & FC's Adam Gauder and Kandy's Roshan Weeraratne.
Newly appointed head coach for the national side, Matt Lee will be keeping a close eye on the game as he looks to compile the national fifteens side for the Division I tournament.
Colombo Origins Squad
| | | | |
| --- | --- | --- | --- |
| No | Name | Club | School |
| 1 | Dushmantha Priyadarshana | Havelock SC | Buddagosha Kalubovila |
| 2 | Jason Melder | CH & FC | St Joseph's College |
| 3 | Ashan Darling | Kandy SC | Isipathana College |
| 4 | Charith Janith Silva | Navy SC | Science College |
| 5 | Faiz Abdulla | Havelock SC | St Peter's College |
| 6 | Azmeer Fajudeen | Havelock SC | Royal College |
| 7 | Prasath Madusanka | CH & FC | Isipathana College |
| 8 | Umesha Madushan | Havelock SC | Royal College |
| 9 | Suhiru Anthony | Kandy SC | St Peter's College |
| 10 | Sajith Saranga | CH & FC | Isipathana College |
| 11 | Yoshitha Rajapakse | CH & FC | S. Thomas' College |
| 12 | Shehan Pathirana | Kandy SC | Royal College |
| 13 | Udara Suriyapperuma | Police SC | Ananda College |
| 14 | Sudarshan Muthuthanthri | CH & FC | S. Thomas' College |
| 15 | Lasindu Heshan | Havelock SC | Science College |
| 16 | Omalka Gunaratne | CR & FC | Isipathana College |
| 17 | Mithun Hapugoda | Havelock SC | Mahanama College |
| 18 | Rahul De Silva | CR&FC | Wesly College |
| 19 | Sudam Sooriyarachchi | CH&FC | Isipathana College |
| 20 | Nigel Ratwatte | Kandy | – |
| 21 | Janidu Dilshan | CR & FC | Royal College |
| 22 | Danushka Ranjan | Kandy SC | St. Peter's College |
| 23 | Nishon Perera | CH & FC | St. Peter's College |
| 24 | Anuruddha Wilwara | Kandy SC | S. Thomas' College |
| 25 | Janith Chanaka | Police SC | St. Joseph's College |
| 26 | Anuradha Herath | CH & FC | St Peter's College |
| 27 | Buddima Priyarathana | Navy SC | D.S Senanayake College |
| 28 | Kevin Dixon | CR & FC | St. Peter's College |
| 29 | Sachith Silva | Police SC | St. Joseph's College |
| 30 | Richard Dharmapala | Kandy SC | Science College |
Outstation Origins Squad
| | | | |
| --- | --- | --- | --- |
| No | Name | Club | School |
| 1 | Kasun De Silva | Navy SC | Thimbirigaskatuwa Negambo |
| 2 | Charles Praveen | Air Force SC | St. Anthony's College |
| 3 | Yakoob Ali | Kandy SC | St. Anthony's College |
| 4 | Sathya Ranathunga | CH & FC | Trinity College |
| 5 | Niroshan Dileepa | Army SC | Bandaranayaka MMV Gampaha |
| 6 | Rasith Jayanga Silva | Police SC | Prince of Wales |
| 7 | Uchitha Jayasuriya | Kandy SC | Kingswood College |
| 8 | Parakrama Rathnayake | Air Force SC | St. Sylvester's College |
| 9 | Thilina Bandara | Air Force SC | St. Sylvester's College |
| 10 | Heshan Kalhra | Kandy SC | Kingswood College |
| 11 | Shashika Jayawardana | Kandy SC | St. Anthony's College |
| 12 | Prabath Kumara | Army SC | Ratnapura Katagolara MV |
| 13 | Tharindu Chathuranga | Kandy SC | Kingswood College |
| 14 | Nivanka Prasad | CH & FC | Hibulgoda Rajasinghe Gampaha |
| 15 | Jason Dissanayaka | Kandy SC | Vidyartha College |
| 16 | Buwanaka Udangamuwa | Kandy SC | Dharmaraja College |
| 17 | Nuwan Perera | Air Force SC | Kingswood College |
| 18 | Ashan Bandara | Army SC | Vidyartha College |
| 19 | Roshan Weerarathne | Kandy SC | Kingswood College |
| 20 | Tarinda Ratwatte | CR & FC | Trinity College |
| 21 | Dinuk Amerasinghe | Havelock SC | St. Anthony's College |
| 22 | Adam Gauder | CH & FC | – |
| 23 | Sudaraka Dikkumbura | Army SC | Sri Rahula MMV |
| 24 | Kavindu Perera | CR & FC | Vidyartha College |
| 25 | Reeza Rafaideen | CR & FC | Kingswood College |
| 26 | Thilina Wijesingha | Kandy SC | Dharmaraja College |
| 27 | Chathura Senevirathne | Navy SC | Kingswood College/St. Joseph's |
| 28 | Samuel Maduwantha | CH & FC | St. Anthony's College |
Read Next: Sri Lanka Rugby hire Matt Lee