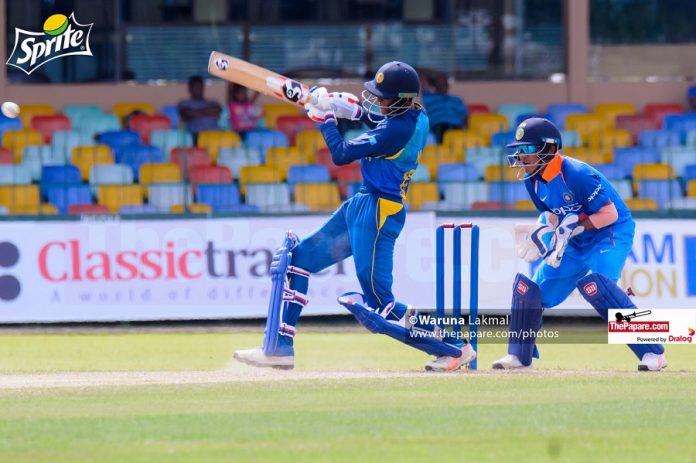 Captain Nipun Dananjaya's unbeaten knock of 92 helped Sri Lanka chase down the modest 193 set by high-flying India U19 to register the hosts' first win of the tour. Sri Lanka leveled the 5-match Youth ODI series 1-1 with this 5 wicket win at the Sinhalese Sports Club grounds in Colombo today (2nd Aug).
India U19 skipper Aryan Juyal won the toss and elected to bat first on a batting-friendly SSC wicket with an unchanged team. Sri Lanka U19 were forced to replace 15-year old Dunith Wellalage as he had split his webbing. Left-arm orthodox spinner Shashika Dulshan made his Youth ODI debut replacing Wellalage.
Read: India U19s kick-start ODIs with easy win
The Lankan bowlers looked really threatening from ball 1 as they kept taking wickets at regular intervals. The new ball was utilized superbly by the two opening pacers Naveen Fernando and Nipun Malinga. Naveen Fernando in particular as he removed both in-form Anuj Rawat and Aatharva Taide very early in the match.
Capitalizing on the brilliant start given by the seamers, the spinners continued to contain the free-scoring Indian batters. Shashika Dulshan was exceptional with his left-arm spinners as he ripped through the Indian batting order claiming 3 wickets for just 27 runs in 10 overs. The prized wickets of in-form Pavan Shah (49) and Ayush Badoni (36) were picked by Dulshan. All-rounders Lakshitha Manasingha and Navod Paranavithana also did a brilliant job picking up 2 wickets each.
In the run-chase Sri Lanka lost an early wicket, the only setback in the chase which otherwise looked very convincing. The 92-run partnership between Captain Nipun Dananjaya and the stylish Pasindu Sooriyabandara for the 4th wicket was the backbone of the Lankan run-chase.
A total of 8 bowlers were tried by the Indian skipper to jolt the Lankan run-chase with no success. Nipun Dananjaya remained unbeaten on 92 to complete the run-chase while Pasindu Sooriyabandara was bowled by Ajaydev Goud on 52 before Sandun Mendis got out, in the same over which was all too late.
The two teams will now meet in the 3rd ODI on the 5th of August at the same venue in what is expected to be a close match after the resurgence showed by Sri Lanka today.
SL U19 won by 5 wickets
India U19's Innings
Batting
R
B
Pawan Shah
b S.Dulshan
49
64
Anuj Rawat
c N.Madushka b N.Fernando
3
9
Atharva Taide
c N.Madushka b N.Fernando
8
19
Aryan Juyal
c N.Madushka b S.Dulshan
8
14
Ayush Badoni
b L.Manasinghe
36
50
Yashasvi Jaiswal
lbw by S.Dulshan
1
10
Sameer Choudhary
c N.Paranavitana b L.Manasinghe
32
61
Ajay Dev Goud
st N.Madushka b n.Paranavithana
24
27
Mohit Jangra
(runout) P.Sooriyabandara
16
16
Siddarth Desai
not out
4
7
Yatin Mangwani
b N.Paranavitana
6
5
Fall of Wickets:
1-7 (A Rawat, 1.5 ov), 2-19 (A Taide, 5.5 ov), 3-48 (A Juyal, 12.5 ov), 4-79 (P Shah, 20.4 ov), 5-93 (Y Jaiswal, 24.2 ov), 6-125 (A Badoni, 31.5 ov), 7-162 (A Dev Goud, 40.5 ov), 8-172 (S Choudhary, 43.6 ov), 9-185 (M Jangra, 45.3 ov), 10-193 (Y Mangwani, 46.6 ov)
| Bowling | O | M | R | W | E |
| --- | --- | --- | --- | --- | --- |
| Nipun Malinga | 6 | 0 | 34 | 0 | 5.67 |
| Naveen Fernando | 6 | 0 | 17 | 2 | 2.83 |
| Shashika Dulshan | 10 | 0 | 27 | 3 | 2.70 |
| Lakshitha Manasinghe | 10 | 0 | 39 | 2 | 3.90 |
| Avishka Lakshan | 4 | 0 | 30 | 0 | 7.50 |
| Navod Paranavithana | 9 | 1 | 27 | 2 | 3.00 |
| Sandun Mendis | 2 | 0 | 16 | 0 | 8.00 |
Sri Lanka U19's Innings
Batting
R
B
Navod Paranavitana
c D.Goud b M.Jangra
4
5
Nishan Madushka
st A.Juyal b S.Desai
16
43
Nipun Dananjaya
not out
92
112
Nuwanindu Fernando
c A.Taide b S.Desi
18
35
Pasindu Sooriyabandara
b A.Goud
52
71
Sandun Mendis
c A.Juyal b A.Goud
0
3
Lakshitha Manasinghe
not out
7
6
Extras
6 (lb 4, nb 1, w 1)
Fall of Wickets:
1-4 (ND Paranavithana, 0.5 ov), 2-48 (KNM Fernando, 11.6 ov), 3-88 (MNK Fernando, 23.1 ov), 4-180 (P Sooriyabandara, 43.1 ov), 5-180 (ST Mendis, 43.4 ov)
| Bowling | O | M | R | W | E |
| --- | --- | --- | --- | --- | --- |
| Mohit Jangra | 6 | 1 | 31 | 1 | 5.17 |
| Yatin Mangwani | 6 | 0 | 25 | 0 | 4.17 |
| Ajay Dev Goud | 7.4 | 0 | 32 | 2 | 4.32 |
| Siddarth Desai | 10 | 0 | 31 | 2 | 3.10 |
| Ayush Badoni | 7 | 1 | 31 | 0 | 4.43 |
| Sameer Choudary | 5 | 0 | 22 | 0 | 4.40 |
| Yashasvi Jaiswal | 3 | 0 | 9 | 0 | 3.00 |
| Atharva Taide | 1 | 0 | 10 | 0 | 10.00 |