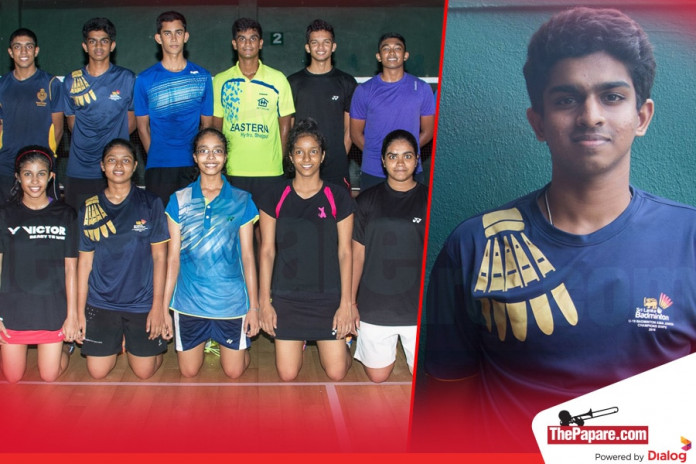 The Sri Lankan Junior Shuttlers who are currently in Spain for the Badminton World Federation World Junior Mixed Team Championships had an unpleasant day in the opening two ties as they lost their ties against South Korea and Sweden 5-0.
The BWF World Juniors is the premier junior tournament accredited under the Badminton World Federation (BWF) to crown the best players and best playing teams from around the world. The team championship kicked off yesterday in Bilbao Spain with the active participation of 54 teams.
With the event being a mixed team encounter, each team plays a Men's Double, Women's Single, Men's Single, Women's Double and a Mixed Doubles match.
The Sri Lankan team led by Shamika Hasaranga and Buthmi Galagamage were no match for the talents of the Koreans and the Swedish players as they were outplayed without winning a single encounter.
Sri Lanka's first encounter was the Men's Double that was played by Kasun Amarasena and Shamika Hasaranga De Silva against Min Hyuk Kang & Won Ho Kim of South Korea. The game ended 21-7, 21-0 in favour of the Koreans. The results of the Women's Single was no different as Chathumhari Wijayarathne was defeated 21-4, 21-3 by Yu Jin Sin of South Korea.
Sri Lanka later met Sweden in the second group stage tie and once again had to face a 5-0 defeat. The highlight, however, was the fighting Madhuka Dulanjana in the Men's Single against Shaun Ekengren who staged a comeback in the game to win the second set but lost to go down in the game. The scores of the 3rd the match read 21-19, 19-21 & 21-17 in favour of the Swedish player.
The other four matches in the tie went in favour of Sweden as Sri Lanka finished the day win-less. Sri Lanka who are grouped in the P2 group along with Korea, Sweden and Algeria currently are in the 3rd place without a win but on points scored. In fourth is Algeria who faced a similar fate against South Korea and Sweden.
Team Sri Lanka is set to meet Algeria in their final group stage tie today at 12.00 p.m. (Spanish Time)
Match results – Sri Lanka vs South Korea
Event
South Korea
Sri Lanka
Score

Mixed Doubles

Hye Jeong Kim & Kyung Hoon Park

Inuri Kuruppu & Ranthushka Sasindu

21-8 21-15

Mens' Singles

Seong Hyun Son

Madhuka Dulanjana

21-6 21-12

Women's Singles

Yu Jin Sim

Hasara Chathumhari Wijayarathne

21-4 21-3

Mens' Doubles

Min Hyuk Kang &

Won Ho Kim

Kasun Amarasena

& Shamika Hasaranga De Silva

21-7 21-0

Women's Doubles

Ga Eun Kim &

Hyang Im Kim

Buthmi Asini Galagamage

& Nayanathara Teshani

21-7 21-13
Match results – Sri Lanka vs Sweden
Event
Sweden
Sri Lanka
Score

Mixed Doubles

Carl Harrbacka Sweden & Tilda Sjoi (Sweden)

Shamika Hasaranga De Silva & Buthmi Asini Galagamage

21-8 21-7

Mens' Singles

Shaun Ekengren

Madhuka Dulanjana

21-19 19-21 21-17

Women's Singles

Emma Karlsson

Hasara Chathumhari Wijayarathne

21-11 21-4

Mens' Doubles

Adam Gozzi &

Carl Harrbacka

Kasun Amarasena

& Ranthushka Sasindu

21-11 21-10

Women's Doubles

Emma Karlsson &

Johanna Magnusson

Buthmi Asini Galagamage

& Nayanathara Teshani

21-13 21-8