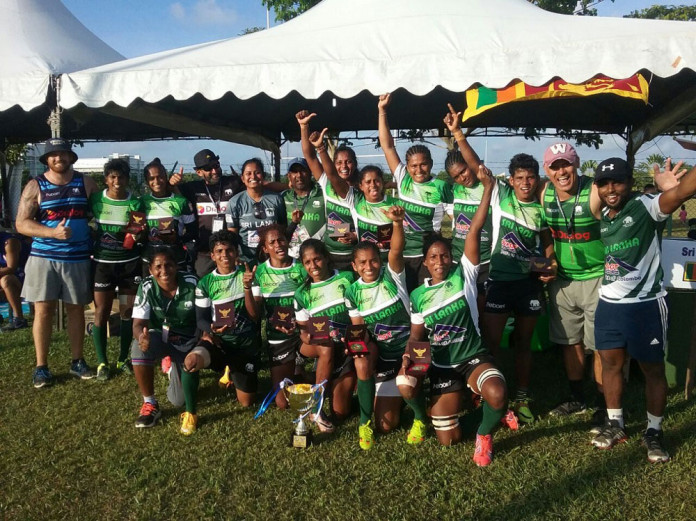 Stunning performance by Sri Lanka women's rugby sevens team in Malaysia as they won the first ever Borneo 7s cup title.
Coach Sudath Sampath's team beat Thailand 12 – 05 in the cup final. Before that the islanders beat Malaysia 29 – 05 in the cup semifinal. Sri Lanka also won both their games in day one beating Sabah Eagles 48 – 00 and Thailand 26 – 05 in the pool stage.
This has been their best performance. Ayesha Perera, Thanuja Weerakkodi, Anusha Attanayake, Randika Kumudumali, Dasuni Silva all played well and were among the try scorers.
Speaking to ThePapare.Com coach Sudath Sampath from Malaysia said "I'm really happy for winning this tournament; these girls were amazing they were brilliant in the training for the last three (3) months or so. They didn't have much facility like many other teams but I also would like to thank the sponsors SAGT , this win will help us to do well in the upcoming series."
Previously Sri Lanka struggled to beat Thailand in the Asian sevens circuit, however, winning twice over the Thai ladies, they  have shown a big improvement in this tournament. Also the playing pattern and the players' attitudes showed a lot of signs, where the men's team lacked in this tournament.
The Winning Women's Squad :
Randika Kumudumali (Capt), Anusha Attanayake, Ayesha Perera, Ayesha Kaluarachchi, Charani Liyanage, Dasuni de Silva, Dilini Kanchana, Dulani Pallikkondage, Nadeeka Munasinghe, Sanjeewani de Silva, Tanuja Weerakkody, Wasana Weerakkody.
Meanwhile, Sri Lanka men's team suffered two heavy defeats today as they went scoreless to Hong Kong 31 – 00 in the cup quarter finals and 33 – 15 to DBKL in the plate finals. Sri Lanka was only able to beat Malaysia 26 – 05 in the plate semifinal.
Before the team's departure, coach Peter Woods clearly stated that this team do not meet the sevens fitness standards. Also the team will have a few changes for the big event next month in Hong Kong, which is the World sevens series qualifiers.
The Tuskers showed a poor performance not only in  the fitness area  but in the restart, kick-off, breakdown, lineout, inside the 22m red zone etc.  Three weeks training is certainly not enough and there will loads home work to be done in the coming three weeks.