With World Sevens series qualifier around the corner, Sri Lanka took part in the Borneo 7's a week ago, to get some much-needed match practice. Sri Lanka finished as plate runners-up which is the 6th place out of 10 teams. Hong Kong, Malaysia and Singapore all sent their National teams as well.
The Tuskers led by Danushka Ranjan only won three out of seven games played, which is less than what the administration and coaching staff would have hoped for. The Tuskers will certainly need to up their game both mentally and physically if they have any intention of making headway in the qualifier.
Although there were wins over Singapore, Malaysia and Cobra (Malaysian club), all of whom were mediocre teams, getting romped by Hong Kong, without troubling the scorers was simply embarrassing for a team that would have us believe the development over the last half decade has been monumental. The set pieces were below par while the fitness and physicality was virtually non-existent.
The kick-off in sevens is the most crucial set-piece, and the Tuskers were woeful against Hong Kong who retained every kick-off in the encounter effortlessly. The players were uninterested in challenging Hong-Kong in the air and the formations were not polished. The lineouts were another issue for the Tuskers who struggled against well drilled opponents and some of the scrums were pushed back resulting in turnovers that cost possession.
The decision making inside the 22m was atrocious, which is indicative of a lack of leadership. The Tuskers now have several experienced players who have been a part of the national squad for at least 3-4 years can they allow basic mistakes into their game?
In open play, the kick-chase execution resulted in a repetitive loss of possession. Although Srinath Sooriyabandara's kicks were well executed by Saliya Handapangoda in last year's sevens' series, this time around some of the decision-making in the kicking game was argumentative.
Sri Lanka has been competing at the top of Asian sevens for years now and not being able to physically match up with teams like Hong Kong is no longer an excuse. Club players spend hours in the gym and are in peak physical condition now, so how is it that they are still struggling to match up physically? According to Sri Lanka trainer Nick Grube his schedules have not been followed by the players/clubs.
It is obvious that the team did not have enough time to prepare after the Club rugby league. Furthermore, Sri Lanka Rugby (SLR) is yet to make the separation of the sevens and XV's squad as it is very apparent that XV's fitness and skill sets are completely different to the shorter version.
Dejected high-performance director Inthi Marikar said that "We wanted the sevens and the fifteens squad to meet the trainer and the coaches once in two weeks right through the whole local tournament but this did not happen. The other teams came with nearly a 3 months training and we went with only 2 weeks and this is the end results."
"Furthermore, fitness levels are nowhere near what we want them to be. The best example is our women's team, the success with the girls is, they simply concentrated on their training program on 7s, working on basic and core skills for three months with only one month of team structure. They beat Thailand not once but twice and Thailand did beat Hong Kong ladies in the Asia seven's series last year. So we see the difference." Marikar stated.
It must be mentioned though comparing the women's team with the men's not possible as the women do not have as demanding a domestic competition and have more time to dedicate to the National squad.  A good comparison would be taking examples from teams that have successful and demanding domestic leagues but still field exceptional national teams. Players from Hong-Kong and Korea all must play in their domestic leagues in addition to representing their nations which means the issues Sri Lanka Rugby faces is not an original story.
Sri Lanka sevens squad had a poor outing in the concluded Borneo 7s. It was an invitational series…
In the upcoming qualifier, the Tuskers will have to face Chile, Hong Kong and Namibia in the group stage and judging by the performances thus far it will be a staggering challenge. The talent base is bulging for the Tuskers but lack of time for preparation and the absence of strategic structure in the system is a concern.
Sampath over the moon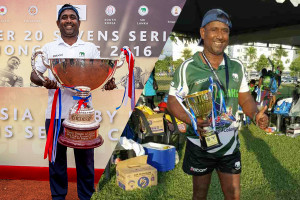 Having taken the Sri Lanka U20 sevens to a first ever Asian seven's series title last year Sudath Sampath has another trophy under his belt now with a sensational win in Borneo for the Ladies.
The ladies put up an exceptional performance in this tournament, the basic skills, fitness levels, tackling and the mindset was on point. With their current form, it would be interesting to see them up against teams like Japan, China or Hong Kong in the future.
However, it is all about sustainability and prior to the Asian Sevens Series in September – October 2017, the ladies team should play a few more invitational tournaments in order to gain some match experience and growth.
The delighted former national scrum half Sudath Sampath shared his thoughts exclusively with ThePapare.com "all credit to the girls. They played with a lot heart and courage, we trained for the past three months with a clear aim and it paid off for all of us. I'm very happy because we lost to Thailand last year in the Asia seven's series and Thailand ladies even beat Hong Kong in Colombo in the final leg, but  last week we won twice against them (Thailand), I saw a clear different in our girls who showed good maturity."
In addition to this coach Sampath said "we still have some areas to develop. Our target is to be in the top 3, we know Japan and China play at a different level in Asia along with Hong Kong and now our target is to go one step further and take the challenge on them. This will not be possible if we did not have our strategies in place over the last three months, thanks to Inthi Marikar for putting this up and pushing at us".