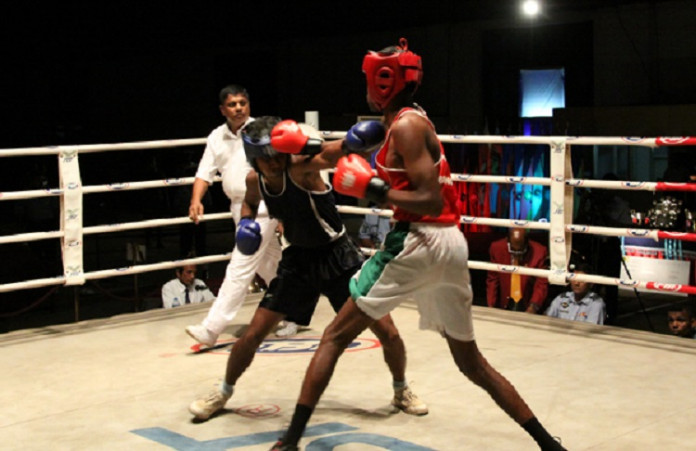 The Clifford Cup Boxing Championship organized by the Boxing Association of Sri Lanka (BASL) got underway on the 18th of October 2016 at the Royal MAS Arena and will continue until the 21st October 2016.
The tournament will be keenly contested as 179 boxers from 12 clubs from around Sri Lanka make their bid be champions. Incidentally this is the main club event in the year's boxing calendar.
31 boxers made their way to the next day with slamming victories on day 1. PD Vidyalankara, representing MDS Boxing Club, and CAD Madusanka, from Vidyartha Boxing Club, kicked off proceedings with the latter coming out on top with a 2-1 victory.
Another interesting bout ensued when JMNJ Kumara (Sri Lanka Air Force) and K. Sindujan (Royal Boxing Club) faced off. The Royal boxer was not fortunate enough to make it through to day 02 as the Airman made his mark following a close fight.
Day 2 (19th) is expected to feature some interesting fights with the winners of day 01 taking centre stage as they try to cement a place in the finals which will happen on the 21st of October 2016.
Below are some of the featured winners of Day 01.
FLY WEIGHT (52kg) – CAD Madusanka (VIDYA)
LIGHT WEIGHT (60kg) – WMS Kumara (SLAR)
LIGHT WEIGHT (60kg) – KAS Banuka (SLIMB)
LIGHT WEIGHT (60kg) – MBAJ Vimukthikumara (SLAA)
WELTER WEIGHT (69kg) – DR Wijarathna (SLIMA)
WELTER WEIGHT (69kg) – PARS Rupasingha (SLARC)
LIGHT WEIGHT HEAVY (69kg) – WAR Sadakelum (SLARC)