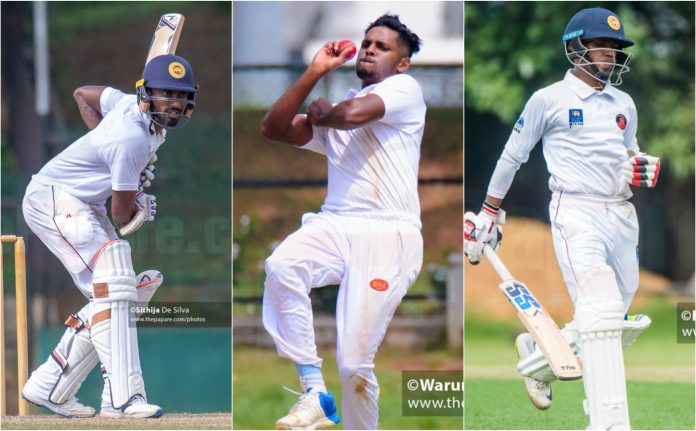 Sri Lanka 'A' ended day 3 of the 2nd and last Unofficial Test against the visiting Bangladesh 'A' side with a lead of 64 runs today at the Mahinda Rajapaksa International Cricket Stadium in Hambantota.
>>Mehedy, Mominul sink Sri Lanka-A at Hambantota<<
Bangladesh 'A' resumed play today with a lead of 60 runs and went on to add 47 more runs by the end of their innings. Trailing by 107 runs, the Lankan openers made a bold reply with an unbroken partnership of 126 as bad light brought an early end to the day allowing just 54.1 overs for the entire day.
The two Sri Lankan openers, Sangeeth Cooray and Pathum Nissanka continued their golden run in the series as both went on to reach half-centuries. Nissanka was the top-scorer for Sri Lanka in the 1st innings while Cooray amassed a century in the previous game.
Before the solid batting display by Nissanka and Cooray, 24-year old Mohamed Shiraz completed his 3rd first-class 5-wicket haul with the wickets of Bangladeshi lower-order batsmen Rishad Hossain and Ebadot Hossain. He had already dismissed Bangladesh national caps Jahurul Islam, Najmul Hossain and skipper Mominul Haque yesterday.
Apart from Shiraz, left-arm spinner Prabath Jayasuriya too impressed with 3 wickets after bowling 31 overs, the most of the innings. This performance will also help him in ranking himself above fellow left-arm spinner Malinda Pushpakumara who played the previous game and managed to pick just 1 wicket.
Off-spinner Nishan Peiris, who once was in the Sri Lanka Test squad but didn't play, ended with disappointing figures of 0/41 after just 7 overs falling behind off-spinning all-rounder Ramesh Mendis who picked up 3 wickets in the previous game.
The hosts will now target to add on to their lead and give a go at bowling out the Bangladeshis before the end of play tomorrow to clinch the series 1-0.
268/10 (90.2) & 357/2 (107)


Batsmen
R
B
4s
6s
SR
Pathum Nissanka
lbw b Mehidy Hasan
85
166
11
0
51.20
Sangeeth Cooray
c Najmul Hossain b Mehidy Hasan
17
32
2
0
53.12
Kamindu Mendis
c Nurul Hasan b Mehidy Hasan
62
121
8
1
51.24
Ashan Priyanjan
c Nurul Hasan b Ebadat Hossain
28
48
4
0
58.33
Charith Asalanka
c Mominul Haque b Salauddin Sakil
44
100
8
0
44.00
Priyamal Perera
c Mohammad Mithun b Ebadat Hossain
4
15
0
0
26.67
Lahiru Udara
c Nurul Hasan b Mehidy Hasan
20
50
2
0
40.00
Nishan Peiris
lbw b Mehidy Hasan
0
2
0
0
0.00
Prabath Jayasuriya
c Rishad Hossain b Mehidy Hasan
0
5
0
0
0.00
Mohamed Shiraz
c Mominul Haque b Mehidy Hasan
0
2
0
0
0.00
Asitha Fernando
not out
0
2
0
0
0.00
| | |
| --- | --- |
| Extras | 8 (b 0 , lb 6 , nb 1, w 1, pen 0) |
| Total | 268/10 (90.2 Overs, RR: 2.97) |
| Fall of Wickets | 1-32 (13.4) Sangeeth Cooray, 2-153 (47.4) Kamindu Mendis, 3-188 (57.3) Pathum Nissanka, 4-217 (66.5) Ashan Priyanjan, 5-221 (70.3) Priyamal Perera, 6-264 (87.1) Lahiru Udara, 7-264 (87.3) Nishan Peiris, 8-268 (89.2) Prabath Jayasuriya, 9-268 (89.4) Mohamed Shiraz, 10-268 (90.2) Charith Asalanka, |
| Bowling | O | M | R | W | Econ |
| --- | --- | --- | --- | --- | --- |
| Ebadat Hossain | 23 | 7 | 62 | 2 | 2.70 |
| Salauddin Sakil | 17.2 | 2 | 60 | 1 | 3.49 |
| Mehidy Hasan | 37 | 14 | 84 | 7 | 2.27 |
| Rishad Hossain | 13 | 0 | 56 | 0 | 4.31 |


Batsmen
R
B
4s
6s
SR
Jahurul Islam
b Mohamed Shiraz
1
4
0
0
25.00
Shadman Islam
c Sangeeth Cooray b Prabath Jayasuriya
77
104
8
1
74.04
Najmul Hossain
c Lahiru Udara b Mohamed Shiraz
9
17
2
0
52.94
Mominul Haque
c Lahiru Udara b Mohamed Shiraz
117
190
15
1
61.58
Mohammad Mithun
c Lahiru Udara b Asitha Fernando
21
36
2
0
58.33
Anamul Haque
c Lahiru Udara b Prabath Jayasuriya
8
17
1
0
47.06
Nurul Hasan
c Lahiru Udara b Asitha Fernando
36
31
3
2
116.13
Mehidy Hasan
not out
38
61
3
1
62.30
Rishad Hossain
c Lahiru Udara b Mohamed Shiraz
7
34
0
0
20.59
Salauddin Sakil
c Sangeeth Cooray b Prabath Jayasuriya
4
5
1
0
80.00
Ebadat Hossain
b Mohamed Shiraz
0
3
0
0
0.00
| | |
| --- | --- |
| Extras | 12 (b 4 , lb 4 , nb 3, w 1, pen 0) |
| Total | 330/10 (83.1 Overs, RR: 3.97) |
| Fall of Wickets | 1-3 (1.2) Jahurul Islam, 2-22 (5.1) Najmul Hossain, 3-176 (40.1) Shadman Islam, 4-215 (51.5) Mohammad Mithun, 5-230 (56.4) Anamul Haque, 6-270 (63.6) Mominul Haque, 7-285 (67.3) Nurul Hasan, 8-310 (79.4) Rishad Hossain, 9-315 (80.6) Salauddin Sakil, 10-330 (83.1) Ebadat Hossain, |
| Bowling | O | M | R | W | Econ |
| --- | --- | --- | --- | --- | --- |
| Asitha Fernando | 16 | 4 | 48 | 2 | 3.00 |
| Mohamed Shiraz | 21.1 | 6 | 63 | 5 | 2.99 |
| Nishan Peiris | 7 | 0 | 41 | 0 | 5.86 |
| Ashan Priyanjan | 4 | 0 | 22 | 0 | 5.50 |
| Prabath Jayasuriya | 31 | 3 | 114 | 3 | 3.68 |
| Charith Asalanka | 3 | 0 | 19 | 0 | 6.33 |
| Kamindu Mendis | 1 | 0 | 15 | 0 | 15.00 |


Batsmen
R
B
4s
6s
SR
Pathum Nissanka
run out (Mehidy Hasan)
192
307
20
1
62.54
Sangeeth Cooray
c Nurul Hasan b Rishad Hossain
89
188
12
0
47.34
Kamindu Mendis
not out
67
134
6
0
50.00
Ashan Priyanjan
not out
5
14
0
0
35.71
| | |
| --- | --- |
| Extras | 4 (b 0 , lb 2 , nb 1, w 1, pen 0) |
| Total | 357/2 (107 Overs, RR: 3.34) |
| Fall of Wickets | 1-219 (62.3) Sangeeth Cooray, 2-351 (103.4) Pathum Nissanka, |
| Bowling | O | M | R | W | Econ |
| --- | --- | --- | --- | --- | --- |
| Ebadat Hossain | 21 | 2 | 60 | 0 | 2.86 |
| Mehidy Hasan | 37 | 5 | 118 | 0 | 3.19 |
| Salauddin Sakil | 22 | 4 | 79 | 0 | 3.59 |
| Rishad Hossain | 23 | 2 | 78 | 1 | 3.39 |
| Mohammad Mithun | 1 | 0 | 8 | 0 | 8.00 |
| Mominul Haque | 3 | 0 | 12 | 0 | 4.00 |