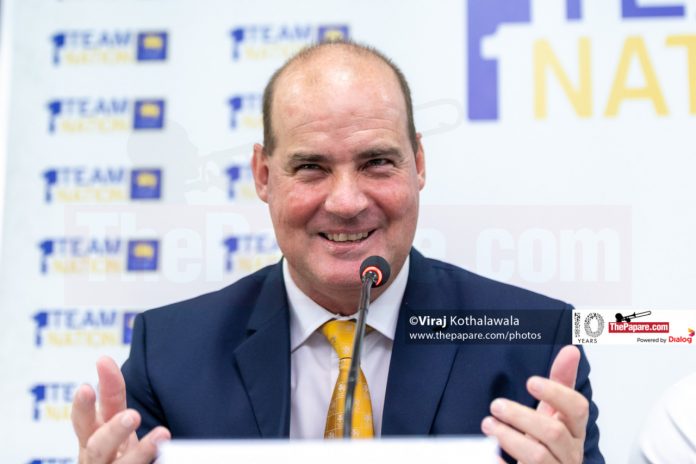 Mickey Arthur has had a terrific start to his stint as Sri Lanka's coach. Here's why. We Sri Lankans, rarely work on time. Well, with Arthur around as our Head Coach, we better learn to work on time. One of the virtues that he is obsessed with his punctuality. His first media briefing at SLC headquarters on Thursday started on the dot – sharp at 3pm. 
A coach with a no-nonsense approach, Arthur brings a lot of positives to the table. It is up to the players to make best use of his services. Not too long ago, he turned the fortunes of Pakistan cricket upside down. 
Video – "Success will be seeing Mendis, Kumara become the best in the world" – Mickey Arthur
When Arthur took over as Pakistan's Head Coach in 2016, he insisted that two things are non-negotiable – fitness and fielding. He just told the Pakistanis plainly that if you cannot field, you simply cannot play for Pakistan. The results were stunning. Pakistan had just pipped West Indies and qualified for the Champions Trophy in England in 2017 as the last ranked team. Remarkably, eighth ranked Pakistan went onto win the title beating arch-rivals India in the final at The Oval. Arthur's vision of fielding excellence and high levels of fitness brought tremendous success for Pakistan. 
His vision was not accepted at all places though. Australia is a case in point. Arthur was the first non-Australian to coach Australian cricket. During the 2013 tour of India, Australia were heading into the third Test trailing 2-0 having suffered heavy defeats in Madras and Hyderabad. Ahead of the third Test in Mohali, he requested all players to submit in writing ways to improve the team's performances. Some players did not oblige. Arthur then took the extreme measure of suspending four players that included Australia's best all-rounder – Shane Watson and their leading quick – Mitchell Johnson. All hell broke loose down under and Arthur became a targeted man. His time with Australia was short-lived and the incident hit headlines all over the world. Arthur's contribution to cricket is well documented. But people give him little credit for gifting a new phrase to the English language – Home work gate. 
Mickey Arthur appointed Sri Lanka Cricket Head Coach
"I felt that at that point that was what Australian cricket needed," Arthur said responding to a question from ThePapare. "It needed just to be pulled together a little bit. I took the blame for it. The home work gate has a stigma that I don't like very much. The point I tried to reiterate was that what they needed to do to be professional cricketers. The sacrifice and discipline that go with being professional cricketers. Those are things that I don't compromise on. You can never compromise on values and standards."
You tend to get the feeling that SLC has hired the ideal man. Fitness and fielding are two of the biggest concerns of the national cricket team at the moment. It remains to be seen what Arthur will do to improve these aspects. Many other coaches like Chandika Hathurusingha and Graeme Ford have tried and come short. Can Arthur make a difference? 
He spoke a lot of sense when detailing what his expectations are dealing with Sri Lankan players. The key point is that you need to take pride in playing for your country.
"The secret is hard work. Nothing else. When we spoke as a playing group this morning, we said to ourselves that we are setting realistic goals. But there are nonnegotiable things. When we go out to training ground, we work hard. We train to get better. The intensity that you train with is what you take to a game. You cannot switch it on and off," Arthur explained. 
While saying that he is excited by the rich talent available in the country, Arthur also went onto add that he would like to see Kusal Mendis become one of the best batters in the world and to do the same with Lahiru Kumara, the promising fast bowler. He has done some impressive work during his Pakistan days with the likes of Babar Azzam and Shadab Khan. Exciting days are ahead. 
SLC needs to be commended for putting up a high-profile coaching unit. Two years ago, SLC felt that there are enough local coaches who are able to fit in as the support staff. The ploy did not work and now they have gone back to handing key responsibilities to overseas professionals. 
"It is exciting to see the amount of talent available in Sri Lanka" – Mickey Arthur
Grant Flower, who was Arthur's Batting Coach in Pakistan, joins Sri Lanka in the same role while the highly respected David Saker, who has been the Bowling Coach of England and Australia joins SLC in a similar role. Tim McCaskill will head the High Performance Center while Shane McDermott joins as Fielding Coach. Another welcome move is relieving Jerome Jayaratne of administrative work and sending him back to coaching. He will oversee cricket operations.