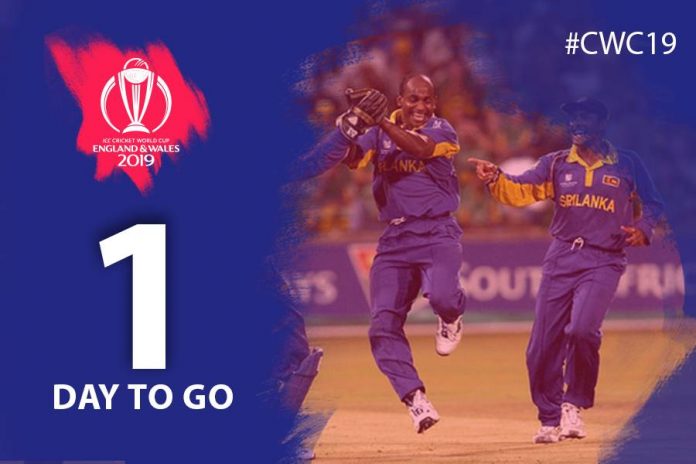 Only seven teams have played all Cricket World Cups from the inaugural edition to the one that will get underway in England and Wales shortly, Sri Lanka are one of them.
Having played the inaugural edition in 1975 on invitation, Sri Lanka won the qualifying round to get to the 1979 edition. In the first five editions, they hardly made an impact, winning just four games. But 1996 changed all that. Total outsiders to win the competition, Arjuna Ranatunga's men stunned the whole world and have performed consistently since then. In the last four tournaments, they have been losing finalists twice and losing semi-finalists once.
Read More : 'The country is behind us' – Kusal Mendis
Of the 73 World Cups games that Sri Lanka have played, they have won 35, lost 35 with one game tied and two ending in no results. They have got a winning percentage of nearly 50 percent, which is a pretty decent record, considering the early struggles.
1975 – First Round exit
Pooled alongside West Indies, Pakistan and Australia, Anura Tennekoon's side lost all three games. They were bowled out for 86 by West Indies to lose by nine wickets at Old Trafford while Majid Khan's side thrashed them by 196 runs at Trent Bridge. They did put out an impressive show against Australia before losing by 52 runs at The Oval.
1979 – First Round exit
After starting the campaign with a nine-wicket defeat to New Zealand at Trent Bridge, their game against West Indies at the Oval was abandoned due to inclement weather. A stunning 47 run win over India in their last group game expedited their Test status.
1983 – First Round exit
With the format changed for the 1983 edition, Sri Lanka played six games with their opponents being hosts England, Pakistan and New Zealand. They managed to win just one game, a three wicket win over New Zealand in Derby. They nearly beat New Zealand in an earlier game in Bristol which they lost by five wickets. In Leeds, they lost another close game to Pakistan by 11 runs.
1987 – First Round exit
A sorry performance where they failed to win a single game. It was in this tournament that Sir Viv Richards smashed 181 from 125 balls, a World Record then. Sri Lanka lost the contest by 191 runs and there were sweeping changes after this campaign.
1992 – First Round exit
Thanks to Arjuna Ranatunga's brilliance, this relatively young team had a decent outing with wins over South Africa and Zimbabwe. They chased down a target of 313 against Zimbabwe. It was the first time a team had successfully chased more than 300 runs to win an ODI.
1996 – Champions
A remarkable performance saw Sri Lanka go onto win the title with an unbeaten record. Audacious strokeplay by openers Rumesh Kaluwitharana and Sanath Jayasuriya took the world by storm and the all-round brilliance of Aravinda de Silva came in handy once the knockouts started. Sri Lanka became the first team to win a World Cup final chasing.
1999 – First Round exit
The defending champions cut a sorry figure in this campaign, winning just two of their encounters, that too against minnows Zimbabwe and Kenya. After a first-round exit, the cricketing establishment and the national team was given a shake up and young blood was infused.
2003 – Semi-finalists
Sanath Jayasuriya's side put out a decent show but a shock first round defeat to Kenya prevented them from carrying the full points through to the next round. That resulted in them playing the semi-final against the in-form Australians and that proved to be too much.  
Read Also : Legends on the World Stage (1992 -2011)
2007 – Finalists
A terrific campaign came to an end in the grand final in Barbados as Adam Gilchrist raced to 149 from 104 balls. Rain and bad light constantly changed the equation and in the end Sri Lanka lost by 53 runs. Skipper Mahela Jayawardene earned plaudits for preventing the game from being dragged onto the reserve day after the umpires made a wrong interpretation of the rules.
2011 – Finalists
Again, Sri Lanka lost a close final in Bombay. This perhaps was the best team that they put up for a World Cup with all bases covered and true to form Kumar Sangakkara's side cruised through the knockout stages, overcoming England and New Zealand easily. But in the final, they could not overcome the brilliance of M.S. Dhoni.
2015 – Quarter-Finalists
Angelo Mathews' side looked on course for another successful campaign but were stunned by the South Africans in Sydney. Surprisingly spin proved to be their undoing with Imran Tahir picking up four wickets and J.P. Duminy, of all people, claiming a hat-trick.
>>ICC Cricket World Cup 2019<<