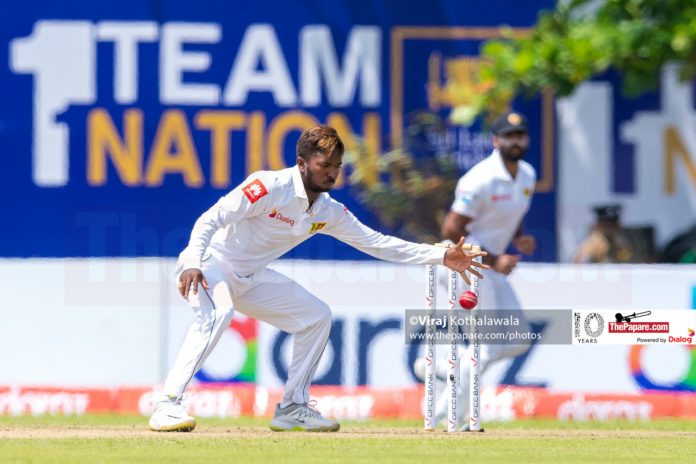 Sri Lanka's premier spinner, 25-year-old Akila Dananjaya has been reported for a suspect bowling action again by the ICC following the 1st Test of the New Zealand tour of Sri Lanka which was held in Galle from 14-18 August 2019.
The match officials' report, which was handed over to the management of the Sri Lanka team, cited concerns about the legality of the bowling actions of Dananjaya, who will now undergo testing within 14 days from the reporting date (18th August). 
Akila Dananjaya cleared to bowl in international cricket
An Independent Assessment will be supervised by a member of the ICC Panel of Human Movement Specialists (the "Appointed Specialist") appointed by the ICC. The Independent Assessment will take place at an Accredited Testing Centre, appointed by the ICC in consultation with the Player's National Cricket Federation.
The spinner will be permitted to continue bowling in international cricket until the results of the testing are known. 
If Dananjaya is suspended from bowling in International Cricket under these Illegal Bowling Regulations (for a second time), he will be automatically suspended from bowling in International Cricket for a minimum period of 1 year.
Dananjaya performed well in the first Test, picking up a 5-fer in the first innings and a match haul of 6 wickets which had impact on Sri Lanka's performance in the game. This is the second time Dananjaya has been reported, the first being in November 2018. He remodeled his action and made a comeback into the team back in May after the setback.
Apart from the Sri Lankan, New Zealand captain Kane Williamson has also bee reported for his bowling action in the game.
Akila Dananjaya's Bowling action Timeline
11th Nov 2018- First reported by ICC 

10th Dec 2018- Action found to be illegal 

18th Feb 2019- Remodeled action cleared by ICC 

3rd Mar 2019- Played 1st ODI with new action 

14th Aug 2019- Played 1st Test with new action 

20th Aug 2019- Reported for the 2nd time by ICC