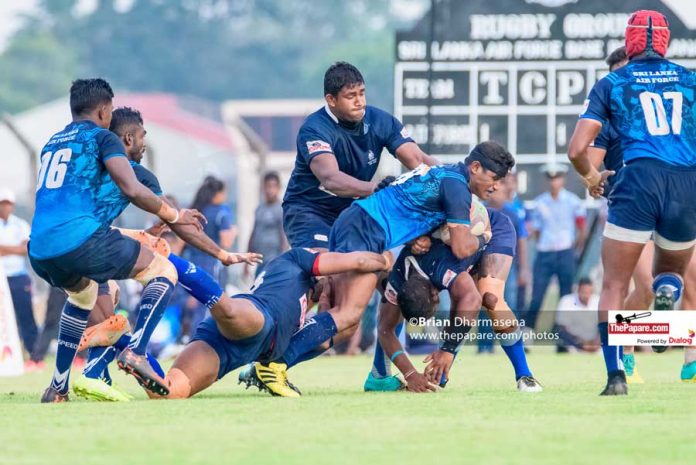 Air Force SC held on to a much needed win over Police SC by 16 points to 7 in their 2nd Round match of the Dialog Rugby League 2018/19 at Ratmalana.
The airmen returned back home to host a match after their suspension and it was the ideal homecoming for them. Gayantha kicked things off and it was the hosts who opened the scoring.
Nippy scrum half Nuwan Perera found a gap through the middle to take the ball from their own 40m to their attacking half. A few phases later they won a penalty which helped Gayantha find touch near the 10m. Parakrama Rathnayake took the ball from the line out and jumped over. Iddamalgoda failed to convert. (Airforce SC 5 – Police SC 0)
Both teams created opportunities but failed to convert them. However, Police found a way to open their sheets. Suranga Kasun got the ball from scrum half Amath Shifaz and he shoved off the defender to find the touch line. Chandimal added the extras to put them in the lead. (Airforce SC 5 – Police SC 7)
Photo Album : Air Force SC v Police SC – Dialog Rugby League 2018/19 | #Match 34
Airforce bounced back strongly but they were unable to convert the chances as they were sloppy in the final third. After a series of attacking phases inside the 22m, Police conceded a penalty under the post which was converted to points by Gayantha to get back the lead for Airforce.
Half Time – Airforce SC 8 – Police SC 7
Airforce were creating similar chances like they were in the first half but yet again they failed to make use of them. Even though they weren't scoring they dominated possession and their perseverance earned them another penalty which was converted by Gayantha. (Airforce SC 11 – Police SC 7)
The cops too had their chances but lack of discipline and sloppy ball handling costed them dearly. However, the hosts made the killer blow in the 65 minute when Parakrama touched down for the 2nd time. The try was similar to his first try as he was pushed over from the line out. (Airforce SC 16 – Police SC 7)
Airforce were put under pressure in the last 7-5 minutes when they were down to 14 with Charles Praveen sinbinned. But, the cops wasted all their chances and ultimately time ran out on them.
Full Time: Airforce SC 16(2T, 2P) – Police SC 7(1T, 1C)
ThePapare.com's player of the match: Parakrama Rathnayake (Airforce SC)
Point scorers for Air Force SC: Parakrama Rathnayake 2T, Gayantha Iddamalgoda 2P

Point scorers for Police SC: Suranga Kasun 1T, Janith Chandimal 1C