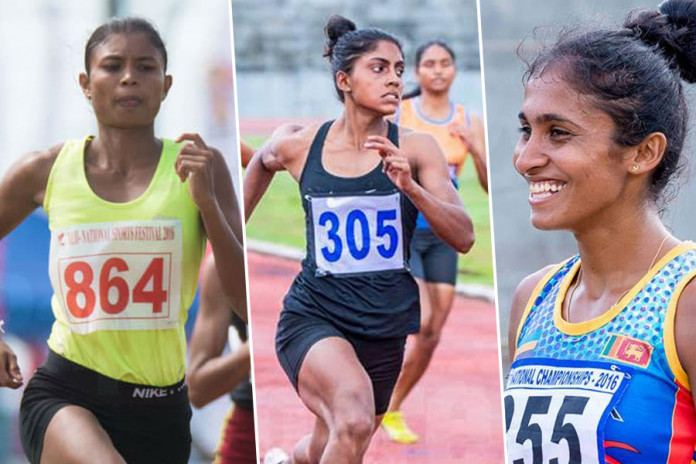 The 22nd edition of the Asian Athletic Championship concluded last evening in Bhubaneshwar, Odisha. This could be deemed as a successful competition for Sri Lankan athletics as they managed to secure 5 medals in total at the championships.
Sri Lanka won their first medal of the competition in the women's javelin throw on the opening day, where Dilhani Lekamge clinched Silver. The final day turned out to be Sri Lanka's most successful day in the competition as they managed to win four medals in total.
Sprinter Rumeshika Ratnayake, who had a heart breaking opening day as she was disqualified in the 100m, bounced backed strongly in the women's 200m as she finished second with a time of 23.43secs and won silver for Sri Lanka. Rumeshika achieved her personal best with a superb run in the heat of the 200m 23.40secs and continued her good form into the final.
The much awaited women's 800m event yielded great returns for the Lankans as Nimali Liyanarachi and Gayanthika Abeyrathne did not disappoint. Running a brilliant race Nimali and Gayanthika were starting to accelerate and overtake the race leader Archana who obstructed both Sri Lankan runners to the finish line, after a successful protest by the Sri Lankan management the Indian athlete was disqualified, paving way for Nimali to lay claim to the Gold and Gayanthika to Silver. Gayanthika clocked a time of 02:05.27 secs and while Nimali was timed at 2:05.23sec. Nimali won Sri Lanka's only gold at the competition. The rivalry between Nimali and Gayanthika has benefited each of them immensely as the competition between the two has lifted their performances and in turn sparked the women's 800 as an event to look forward to every time they compete.
The final medal of the day for Sri Lanka came in the 4 X400m men's relay. The team consisting of Ajith Premakumara, Dilip Ruwan,Pradeep Kumara and Dhananjaya made easy work of their heat as they managed to finish first with a large gap between them and the second placed team. In the final Sri Lankan team finished behind the Indians with a time of 03:04.80secs.
Sri Lanka ended up with 1 Gold and 4 Silvers but could have certainly secured another definite Bronze if not for a refereeing blunder by an Indian official  who is alleged to have incorrectly called Vidusha Lakshani to have over stepped in the triple jump. Despite a furious protest she had to be satisfied with a 4th placed finish.