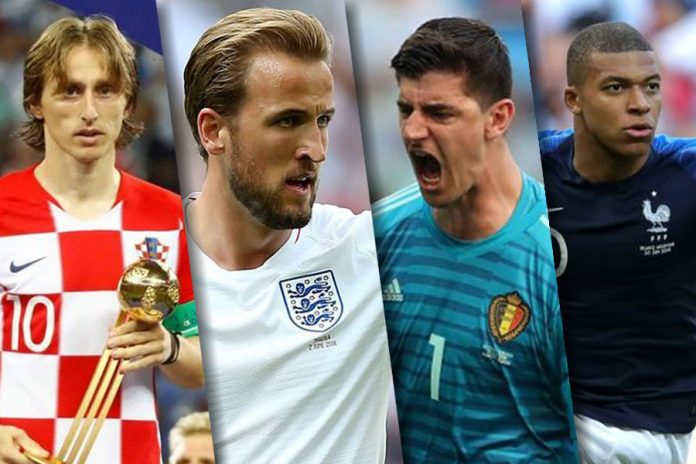 As per tradition, the FIFA World Cup accolades were awarded after the Final in Moscow, with all the individual winners coming from the final four of France, Croatia, Belgium and England.
France triumphed over fighting Croatia in the final of the…
Adidas Golden Ball – Luka Modric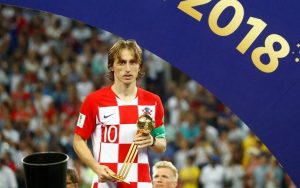 The Adidas Golden Ball award is presented to the best player of the World Cup tournament, with a FIFA technical committee drawing up a shortlist of names and representatives of the media getting the final vote.
Luka Modric was brilliant in midfield for his Nation pulling off complete all round performances consistently for Croatia in their incredible run to the Final.
Modric scored 2 goals and had 1 assist, but with a total of 439 completed passes combined with his brilliant vision to pass the ball into the right areas, he was key in majority of the build ups of Croatia's attacks.
Adidas Silver Ball – Eden Hazard
Belgium made it to their best ever result at a FIFA World Cup when they finished in 3rd place ahead of England. Belgium boasted of the most prolific attack scoring the most goals in the tournament with 16.
Majority of that credit going to the brilliance of Eden Hazard who wreaked havoc to almost every opposition defenses Belgium came up against with his brilliant pace combined with his world class dribbling skills.
Hazard ended up with 3 goals and 2 assists, and had an incredible 19 successful dribbles into the penalty area.
Adidas Bronze Ball & Adidas Silver Boot –  Antoine Griezmann
Griezmann ended the tournament with 4 goals and 2 assists, putting in some valuable performances for France in their run to their second World Cup victory.
3 of Griezmann's goals were through penalties, scoring 1 against Australia, 1 against Argentina in the Round of 16, 1 goal against Uruguay in the quarter-finals and the all-important penalty in the Final to give France the lead.
Adidas Golden Boot – Harry Kane
Harry Kane finished the World Cup with 6 goals, 3 of them being penalties. Kane was a major part of England's run to the semi-final, with his most impressive performance coming against Panama where he scored an impressive hat-trick.
It is noteworthy however after his goal vs Colombia in the Round of 16, Kane failed to register another goal for England for the rest of the tournament, a fact that probably cost England.
Adidas Bronze Boot – Romelu Lukaku
Romelu Lukaku was Belgium's key man in the group stages alongside Hazard, with Lukaku scoring 4 goals, 2 goals vs Panama and 2 vs Tunisia.
Lukaku however seemed to lose form in the knock-outs missing quite a few clear-cut chances which could have helped Belgium progress further than they did.
Adidas Golden Glove – Thibaut Courtois
Thibaut Courtois finished the tournament as the goalkeeper with the most saves, 27. Belgium have Courtois to thank just as much as their attack for their historic 3rd place finish, with the shot stopper putting up some world class performances in the knockout stage.
He made 9 outstanding saves against Brazil and despite Belgium falling to France, Courtois made some incredible stops to keep the score-line to just 1-0.
Courtois once again in the 3rd place play-off made superb saves as Belgium kept a clean sheet to beat England 2-0.
FIFA Young Player Award – Kylian Mbappe
Kylian Mbappe had some expectations to live up to at the World Cup after a couple of successful seasons at club level and indeed he lived up to all expectations at just 19 years old with his scorching pace, accelerating past defenders easily.
Mbappe scored 4 goals in this World Cup, scoring the only goal in France's group match vs Peru, 2 vital goals against Argentina in the Round of 16 becoming the youngest player to score a brace in a World Cup knockout match since Pele in 1958.
He also scored a goal in the all-important final, becoming the 2nd teenager after Pele to score in the World Cup final.
FIFA Fair Play Trophy – Spain
Despite having a disappointing World Cup where Spain crashed out in the Round of 16 to the hosts Russia, they were awarded for their behavior on-field.
They had picked up just 34 fouls and only 2 yellow cards in 4 matches. Many fans would have thought Japan were the deserved winners of such an award, for their exemplary behavior off the pitch, but the winner of this award seems to have been chosen based on the number of fouls and yellow cards.
>> For more International Football click here <<