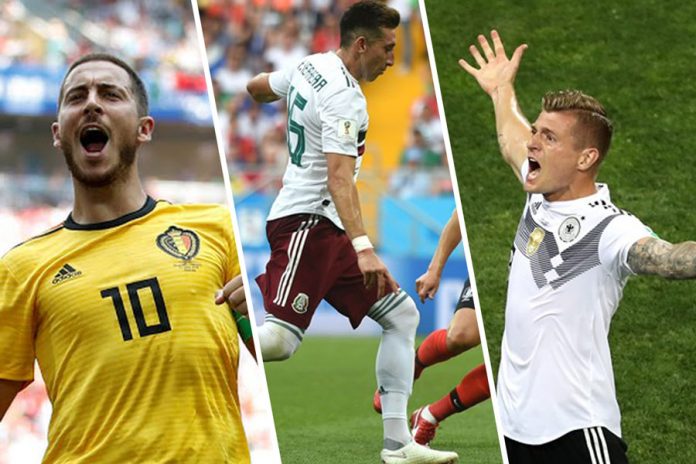 Germany survived against Sweden, Belgium turned on the gas as they crushed Tunisia while Mexico continued their impressive performance to progress on day 10 of the 2018 FIFA World Cup.
It needed two late goals for Brazil to win against Costa Rica while Nigeria and Switzerland secured wins…
Germany survive Sweden to stay in contention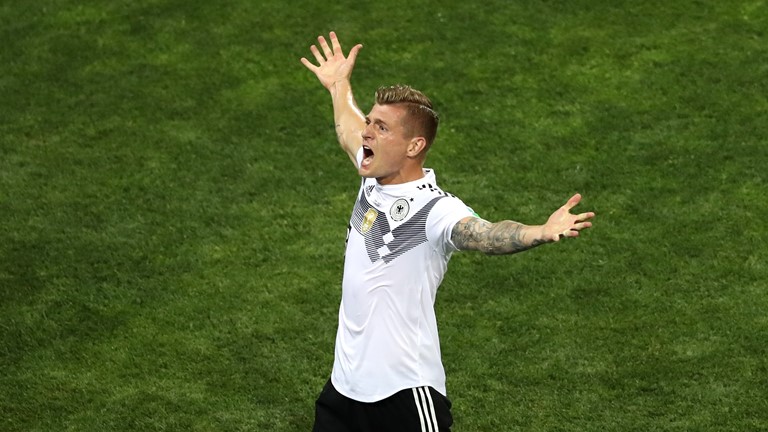 Toni Kroos scored a scintillating late late winner in injury time for Germany to complete a turnaround 2-1 victory against Sweden after being reduced to 10 men at Fisht Stadium, Sochi.
After a surprising loss to Mexico, Joachim Low didn't hesitate to make the changes dropping Mesut Ozil and Sami Khedeira.
Germany started the match in blistering pace looking for the early goal but the Swedes maintained their discipline not to lose shape in defence. Sweden managed to counter a Jerome Boateng miss-pass which ended in a penalty shout but the referee controversial turned it down.
However, Sweden managed to go front in the 32nd minute via a swift counter attack. Ola Toivonen expertly controlled the ball despite being surrounded by two defenders and coolly chipped the ball over onrushing Manuel Neuer to give Sweden the surprise lead.
Half Time – Germany 0 – 1 Sweden
The world champions responded to the deficit with a goal in the 48th minute when Marco Reus effectively deposited the ball into the net from point blank off a dangerous Werner low cross.
Germany kept on piling the pressure which also opened the gates for Sweden to counter at times. The Swedish custodian Olsen had a busy day at the office saving waves of German attack and did well to keep his team in the game.
The match turned on its head when Jerome Boateng was shown a second yellow to be sent off after bringing down Berg. With about 10 minutes to go, it seemed as if Germany had to settle for a point.
Olsen sprung out an acrobatic save in the dying minute to deny what looked like a winning header from Mario Gomez. It looked as if Sweden did enough to earn a draw.
But Toni Kroos had other ideas in his mind. Winning a freekick right on the edge of the penalty box in the 95th minute, Kroos combined with Reus to adjust the angle before curling the ball into the back of the net to provide the dramatic finish.
Half Time – Germany 2 – 1 Sweden
Man of the Match – Marco Reus
Goal Scorers
Germany – Marco Reus 48', Toni Kroos 90+5′
Sweden – Ola Toivonen 32′

Bookings

Yellow Cards
Germany – Jerome Boateng 71′
Sweden – Albin Ekdal 52′, Sebastian Larson 90+7′

Red Cards
Germany – Jerome Boateng 82′
Brilliant Mexico beat South Korea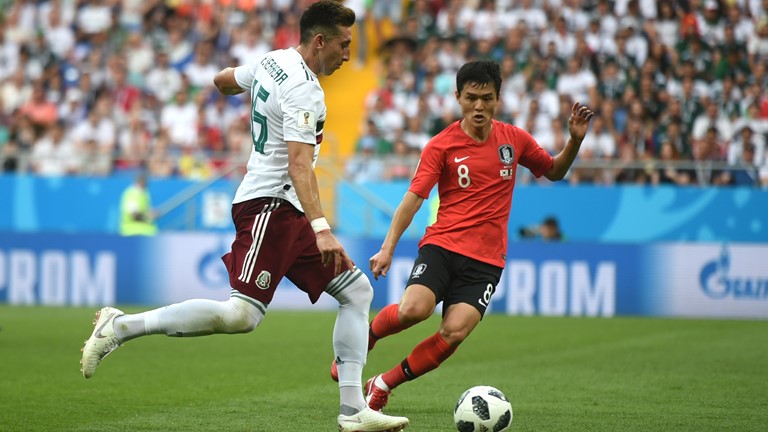 Mexico played brilliantly to beat persistent South Korea 2-1 in a Group F encounter at the Rostov Arena, Rostov-On-Don.
From the onset Mexico had the Lion share of possession in a cagey affair. There were no clear-cut chances in the early part of the game. Mid-way through the first half Mexican penetration was rewarded when they were awarded a penalty for hand ball by Jang Hyunsoo. Carlos Vela duly converted from the spot.
South Korea did manage couple of counter attacks which fell to Heung Min Son who was unable to take his chances. Just before the break Hirving Lozano brilliantly dribbled past three defenders only to shoot over the bar.
Half Time – South Korea 0 – 1 Mexico
Exchanges were even in the early part of the second half, however Mexico looked more threatening. Jo Hyeonwoo made a brilliant save to keep South Korea in the game from curler from Andres Guardado out of the box.
Javier Hernandez then put Mexico in a commanding position with a goal from a counter attack. Jo Hyeonwoo was unable to stop the goal this time around.
Mexico was brilliant in the last 10 minutes playing posessional football and giving no chance to the opponents. In added time out of nowhere Son Heunming scored a left foot curler which gave no chance to Ochoa in the Mexican goal.
Full Time – South Korea 1 – 2 Mexico
Man of the Match – Javier Hernandez (Mexico)
Goal Scorers
South Korea – Son Heunming 90+3'
Mexico – Carlos Vela 27'(P), Javier Hernandez 66'

Bookings
Yellow Cards
South Korea – Kim Younggwon 58', Lee Young 63', Lee Suengwoo 72', Jung Wooyoung 80'
Lukaku and Hazard demolish Tunisia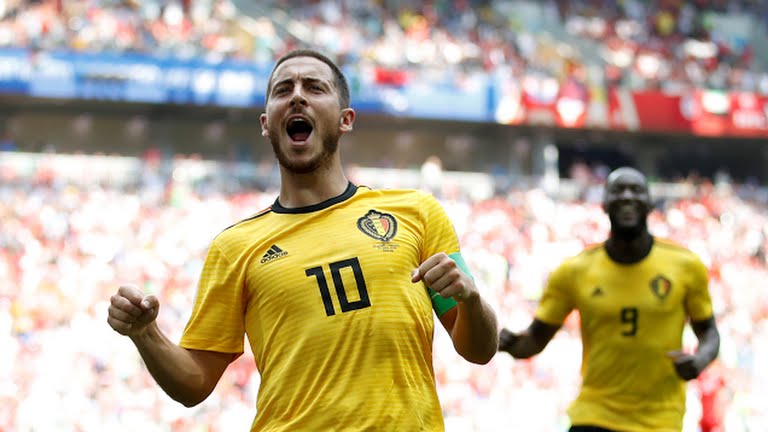 A brace from Romelu Lukaku and Eden Hazard saw Belgium win 5-2 against Tunisia in a group G encounter at the Spartak Stadium, Moscow.
In just the 6th minute, Eden Hazard was brought down in the opposition six-yard box by Syam Ben Youssef which VAR confirmed as a penalty kick. Hazard, composed as ever, slotted the ball into the bottom left corner.
Tunisia never got into their stride and a poor string of play from them, saw Hazard play Romelu Lukaku in on goal where he decisively put it past the Tunisian keeper Farouk Ben Mustapha.
Tunisia immediately responded when a Wahbi Khazri free kick found the head of Dylan Bronn who put it past the diving Thibaut Courtois to get a goal back.
Despite the Tunisians responding well, the half closed with Lukaku finding himself on the end of a dinked pass by Thomas Meunier which he chipped over the Tunisian keeper to make it 3.
Half Time – Belgium 3 – 1 Tunisia
Tunisia showed much promise at the start of the second half, but Hazard once again found himself one on one with the goalkeeper and scored despite the pressure from two Tunisian defenders.
Michy Batshuayi who replaced Romelu Lukaku was denied thrice from point blank range but a cross from Youri Tielemans saw Batshuayi finally score after a number of unsuccessful attempts to make it 5 for Belgium.
Understandably Belgium let their foot off the gas which allowed Wahbi Khazri of Tunisia to beat Thibaut Courtois at his far post when the Belgium defence was taken off guard.
Full Time – Belgium 5 – 2 Tunisia
Man of the Match – Eden Hazard
Goal Scorers
Belgium – Eden Hazard 6'(P) & 51', Romelu Lukaku 16' & 45+2', Michy Batshuayi 90'
Tunisia – Dylan Bronn 18', Wahbi Khazri 90 + 3'

Bookings
Yellow Cards
Tunisia – Ferjani Sassi 14'