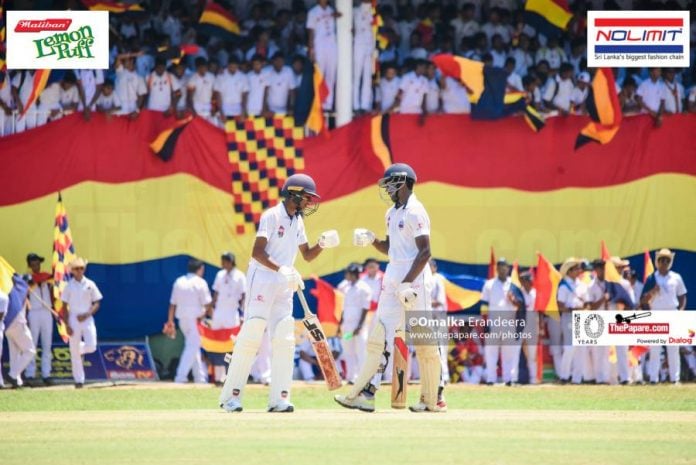 St. Anthony's College, Katugasthota ended the first day of the 102nd Hill Country Battle of the Blues against Trinity College, Kandy on a high, posting a mammoth first innings total of 298/8(dec) having opted to bat first after their skipper Theeksha Gunasinghe won the toss.
The Antonian openers did justice to their captain's call of opting to bat first on what looked like a good batting wicket with a few cracks that could assist the spinners as the game continues.
Asitha Wanninayake and Chamindu Wickramasinghe put on a brilliant opening partnership of 75 runs at a brisk pace to start things off for St. Anthony's. Wanninayake was the more aggressive batsmen of the two and notched up 54 runs in 66 balls which included 11 boundaries.
Photos: Trinity College vs St. Anthony's College – 102nd Battle of the Blues | Day 1
Despite losing his partner, Chamindu Wickramasinghe, playing in his maiden big match, went on to display terrific composure in his batting and batted through 190 deliveries to accumulate 128 runs, inclusive of 4 boundaries and 1 six.
He was the rock on which the Antonian innings was built, as he partnered Theeksha Gunasinghe and L Werellegama to drive the Antonians to a commanding score. Skipper Gunasinghe, who had notched up 972 runs this season fell an agonizing 3 runs short of the 1000-run mark as he was dismissed for 25 runs off the Kavishka Senadeera.
The Trinitians were guilty of not being disciplined with their bowling in the opening session of play as they did not stick to their plans, which allowed the Antonians to free their arms.
The two quicks for Trinity, Ruvin Peiris, and Avishka Senadeera went for plenty with the Antonian openers latching onto their loose deliveries.
Trinity skipper Pubudu Bandara brought himself in as the first change but it did not last long as Trinity was dealt with a massive blow when Pubudu had to leave the field after bowling just 3 deliveries, having injured his shoulder trying to cut off a single off his own bowling.  Pubudu was rushed to the hospital and did not play a further part in the game.
At the close of play due to bad light, Trinity College was 20/1 after their opening batsman Shane Gunathilaka was dismissed for 2 runs playing a rash shot.
Trinity will have their work cut out on the second and final day of the big match with a mammoth deficit of 278 runs and the pitch increasingly assisting spin, with Antonian spinner Nimnaka Jayathilaka who has crossed the 100 wicket mark this season and Kalhara Senarathne expected to trouble the Trinitians.


Batsmen
R
B
4s
6s
SR
C Wickramasinghe
c & b Kavishka Senadeera
128
190
4
1
67.37
A Wanninayake
lbw b Kavishka Senadeera
54
66
11
0
81.82
G Ebert
c Ruvin Peiris b Abishek Anandakumar
4
8
0
0
50.00
T Gunasinghe
c Chanuka Kumarasinghe b U H Wimaladarma
25
37
3
0
67.57
L Werellagama
lbw b Kavishka Senadeera
21
50
0
0
42.00
T Abeykoon
c & b
21
23
0
0
91.30
K Senarathna
c Jeff Weerasinghe b Abishek Anandakumar
11
14
0
0
78.57
G Achintha
run out
8
13
0
0
61.54
M Kamil
not out
7
9
0
0
77.78
S Hirudika
not out
5
3
0
0
166.67
| | |
| --- | --- |
| Extras | 14 (b 4 , lb 6 , nb 4, w 0) |
| Total | 298/8 (76 Overs, RR: 3.92) |
| Did not bat | N Jayathilaka, |
| Bowling | O | M | R | W | Econ |
| --- | --- | --- | --- | --- | --- |
| Ruvin Peiris | 11 | 0 | 68 | 0 | 6.18 |
| Avishka Senadeera | 4.3 | 0 | 25 | 0 | 5.81 |
| Pubudu Bandara | 0.3 | 0 | 1 | 0 | 3.33 |
| Kavishka Senadeera | 26 | 1 | 98 | 4 | 3.77 |
| Abishek Anandakumar | 25 | 4 | 77 | 2 | 3.08 |
| Shene Gunathilake | 2 | 0 | 5 | 0 | 2.50 |
| U H Wimaladarma | 7 | 0 | 14 | 0 | 2.00 |


Batsmen
R
B
4s
6s
SR
Shene Gunathilake
c G Achintha b C Wickramasinghe
2
9
0
0
22.22
Abishek Anandakumar
b S Hirudika
4
44
0
0
9.09
Chanuka Kumarasinghe
st b N Jayathilaka
33
77
6
0
42.86
Avishka Senadeera
c T Gunasinghe b S Hirudika
0
11
0
0
0.00
Ashan Lokukatiya
b N Jayathilaka
17
42
3
0
40.48
Umair Raizan
lbw b N Jayathilaka
10
34
0
0
29.41
Dinitha Siriwardena
c L Werellagama b K Senarathna
2
13
0
0
15.38
Kavishka Senadeera
lbw b N Jayathilaka
12
14
2
0
85.71
Uvindu Wimaladharma
c L Werellagama b N Jayathilaka
10
64
2
0
15.62
Pubudu Bandara
c S Hirudika b K Senarathna
60
99
8
2
60.61
Ruvin Peiris
not out
9
28
2
0
32.14
| | |
| --- | --- |
| Extras | 14 (b 9 , lb 0 , nb 4, w 1) |
| Total | 173/10 (72 Overs, RR: 2.4) |
| Bowling | O | M | R | W | Econ |
| --- | --- | --- | --- | --- | --- |
| S Hirudika | 11.1 | 7 | 8 | 3 | 0.72 |
| C Wickramasinghe | 6 | 3 | 15 | 1 | 2.50 |
| K Senarathna | 19 | 5 | 57 | 1 | 3.00 |
| N Jayathilaka | 28 | 13 | 57 | 5 | 2.04 |
| G Ebert | 3 | 0 | 9 | 0 | 3.00 |
| A Wanninayake | 5 | 1 | 18 | 0 | 3.60 |